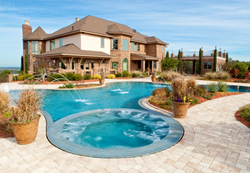 Panama City Beach, FL (PRWEB) March 19, 2014
Local pool builder Cox Pools received an award in the Florida Swimming Pool Association's (FSPA) annual Design Awards contest.
Cox Pools of Panama City Beach received the silver award in the Residential Pool/Spa Combination 701 Square Foot and Over category. The winning pool was entered into the contest by Jeff Hunt.
The annual FSPA Design Awards program gives members an opportunity to enter their pools, spas and water features for judgment on workmanship, soundness of design, beauty, practicality and safety. Categories customized for Florida pool construction divide the entries by size, type of construction and features.
FSPA President John Garner, Sr. said, "The FSPA Design Awards recognizes some of the best pools being built in Florida by FSPA members. The excellence and quality seen in these pools, spas and water features are a true testament to the builders."
This year, 24 awards ranging from Best of Show to Award of Merit were given out. The winners are selected by a Design Awards Committee, which consists of knowledgeable professionals, and are recognized at the annual Everything Under the Sun Expo in February.
The Florida Swimming Pool Association is a trade association for the pool and spa industry in Florida. There are approximately 550 member businesses in 16 chapters across the state. Members are required to abide by a code of ethics and to be properly licensed and insured. FSPA provides the industry with access to continuing education courses, information on current trends and issues, an arbitration program and government relations representation. FSPA is governed by a Board of Directors.
About the company:
Cox Pools, a leader in pool building has grown into the South's number one pool construction company. With over 50 year's experience, Cox Pools maintains a standard of excellence in its design, construction and renovation services. In addition to building the highest quality pools, spas and fountains, they can also transform backyards into an outdoor entertainment area, complete with paver decks, synthetic turf, beautiful furniture, putting greens and built-in grills. Their experience spans commercial and residential swimming pool installation, hot tubs and spas, and more. Call them today or visit their website to start designing a pool online right now.