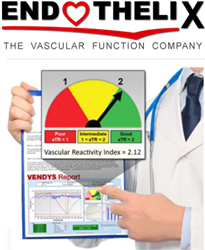 Houston, TX (PRWEB) March 20, 2014
As the Pri-Med conference brings thousands of primary care physicians to Houston to learn about the latest in patient care and preventive heath measures, a Houston medical device company is using the forum to introduce VENDYS®, the new, non-invasive FDA-approved technology that could lead to the early detection and treatment of cardiovascular disease, the number one cause of death in the United States.
Dr. Jack Hauser explains why VENDYS is valuable to his practice...
Developed by Houston cardiologist Dr. Morteza Naghavi, the VENDYS technology will be demonstrated at the Pri-Med Southwest Annual Conference (booth 101), March 20-22, at the George R. Brown Convention Center. It also will be presented at a gathering of physicians at Hotel Derek, 2525 West Loop South, on Friday, March 21 from 5:30 - 7:30 p.m.
The VENDYS automated technology is designed to help primary care physicians detect vascular dysfunction and measure the fitness of a patient's cardiovascular system. It also provides a patient-friendly report in 15 minutes by simply measuring the temperature in one's fingers.
The VENDYS test begins with an automated blood pressure measurement, followed by a tightening of the cuff on the right arm. During the cuff occlusion, fingertip temperature in the right hand will fall due to the absence of warm circulating blood. Once the cuff is released, blood flow rushes into the forearm and hand, causing a temperature rebound in the fingertip which is directly proportional to the vascular reactivity. The higher the temperature rebound, the better the vascular reactivity.
Several VENDYS devices already are in use by primary care physicians in Houston. The Endothelix team will be exhibiting at the Pri-Med conference in booth 101.
For more information, go to http://www.endothelix.com.
About Endothelix
Endothelix, Inc. is a cardiovascular device company based in Houston, Texas and is focused on non-invasive vascular function measurement. The company originated from the Texas Medical Center-Houston from a collaborative project between the Texas Heart Institute and The University of Texas Health Science Center at Houston. Endothelix received a $1 million award from the Texas Emerging Technology Fund to develop the VENDYS® technology.
Endothelix's first product is VENDYS, a non-invasive, inexpensive, and easy to use vascular function test. VENDYS is FDA cleared and is currently marketed throughout the United States, Europe and Canada. The company has a pipeline of innovative products.
About Pri-Med
With programs in over 30 cities across the U.S., Pri-Med is evolving as a medical education company. We recognize that improving patient outcomes is not simply achieved by increasing knowledge for individual clinicians, but rather by fostering collaboration among specialists, PCPs, and allied health professionals through disease specific multidisciplinary programs. Looking forward, Pri-Med is committed to helping clinicians integrate the latest in medical education with patient information so they can improve outcomes at the point of care in an increasingly complex healthcare environment.