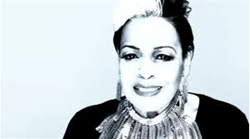 Washington, DC (PRWEB) March 20, 2014
Jacky (Jacqueline Clark-Chilsom), a three-time GRAMMY® Award winning American urban inspiration singer and a member of the world-famous gospel singing group, The Clark Sisters, is thrilled to announce the release of her new single, titled "My Season". It is set to release digitally worldwide on March 25th, 2014.
Jacky has enjoyed enormous success on a global-scale alongside her amazingly talented sisters but has recently decided to step center stage as a solo artist after so many years of being overlooked. She has a vocal style all her own that is strong enough to make the world stop and listen. "My Season" showcases her sultry jazz inspired voice that encompasses the power of meaningful lyrics strong melody and infectious beats. #MYSEASON is her first single from her forthcoming studio album, "JACKY?," that intentionally has no release date. "You all will know the release date on the day it appears, just like a Thief in the Night," says Antun Foster Co-Executive Producer of the JACKY? Project.
Making a dazzling display, Jacky's unique technique gives everything she has a sound that speaks of an emotional and restless spirit so evident in her work. Jacky is a simple storyteller who reveals stark truth with this new project that is full of tales of love, faith that represent a change of approach in her career. "She chose to make a serious career move out to LA. I think JACKY simply wanted to be taken seriously as a solo artist and I knew exactly what needs to be done," says Anthony "Baby Geff" Williams. Co-Executive Producer of the JACKY? Project
Jacky has joined forces with newly formed production team THE MINOR PROPHETS also known as MP Productions which encompasses a multi-talented array of award winning producers and composers, provides the winning formula and delineates the lyrics and sound with passion. This style is resulting in one of the most vibrant statements of Jacky's career which emphasizes her own bold and unique approach to her craft. The team includes Anthony "Baby Geff" Williams (2 Time GRAMMY® Award Nominee) and Antun Foster (2 Time BMI Award Winner).
With over 40 years in the music industry and coming from a musical dynasty, there is an obligation that Jacky strives to meet by always displaying the highest work ethic and pass on the feeling behind the vocal approach and the dense layers of sound. Here, Jacky has succeeded well beyond expectation. Jacky is still on course with affirmative testimony to her vocal magnetism that is masterfully captured in the single 'MY SEASON'.
For more information or interview inquiries regarding JACKY?, contact Judy Groover at 202-361-3939 or jgroover(at)rockmediaconcepts(dot)com. For Radio Servicing of the single contact Gerard Bonner at 757-636-1411 or gerard(at)getbonnerfide(dot)com.
View JACKY?: My Season Trailer
About JACKY?
JACKY? Is a three-time GRAMMY® Award winning American urban inspiration singer, who has established herself as gospel royalty as a member of the All-Time-Great gospel music singing group, The Clark Sisters. The Clark Sisters flourished and became known for their classic gospel performances including "Is My Living In Vain?" and "You Brought the Sunshine." She is a gospel singer, evangelist, writer, actress, business leader, and realist. She is also the CEO of Polished Image, a consulting firm that focuses on one's public image, and is currently the executive producer, writer and actress of the play called "Ain't To Proud Too Beg."