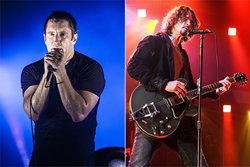 Denver, Colorado (PRWEB) March 20, 2014
Nine Inch Nails proved to be sharp as ever, especially after nailing ticket sales to their upcoming tour with fellow 1990's rockers Soundgarden, sharing a bill for the first time since 1994.
Social media was already buzzing with anticipation after both Trent Reznor of Nine Inch Nails and Chris Cornell of Soundgarden dropped tour teasers last week. Then they made it official Saturday night, and ticket sales have been sounding off ever since, according to Marta Ault at online ticket marketplace BuyAnySeat.com.
The 23-city co-headline run, featuring full sets from both bands, kicks off on July 19 in Las Vegas at Planet Hollywood and wraps up in Los Angeles on August 25 at the Hollywood Bowl. The groups will play 23 dates together, mostly in the U.S. with one stop in Toronto. The month long run passes through most major markets and will feature support from experimental hip-hop group Death Grips.
"Nine Inch Nails and Soundgarden epitomize 90's rock and tickets have been trending at the top as fans take advantage of the rare opportunity to see both bands together," said Marta Ault at online ticket marketplace BuyAnySeat.com.
"That's why we're proud to be able to offer fans the most complete and continuously refreshed selection of tickets online, with a worry-free guarantee to protect their purchase," added Ault.
"To access the full line-up of Nine Inch Nails and Soundgarden tickets we have available, fans can go to BuyAnySeat.com and search for Nine Inch Nails and Soundgarden– then select their tickets."
It has been 20 years since the two bands shared a bill; the last time they performed together was at Ontario's Molson Park in 1994. That year the two bands had each released an album on the same day, March 8. Nine Inch Nails dropped The Downward Spiral, while Soundgarden sounded off with super hit Superunknown.
This time, Nine Inch Nails will be touring in support of their 2013 album Hesitation Marks, which features the singles "Came Back Haunted" and "Copy of A". Front man Trent Reznor and the rest of the band toured North America in support of the record last Fall.
Soundgarden will be touring behind their 2012 comeback album King Animal, their first new material in more than 15 years. The album has yielded Number One rock hits "Been Away Too Long" and "By Crooked Steps".
Soundgarden achieved its biggest commercial success with Superunknown, which, in 1994, debuted at Number One on the Billboard charts and yielded the Grammy Award-winning singles "Black Hole Sun" and "Spoonman". As of 2012, Soundgarden had sold more than 10.5 million records in the U.S. and an estimated 22.5 million worldwide. The band will release a five-disc 20th anniversary edition of Superunknown on June 3, 2014.
Since 1989, Nine Inch Nails has released nine major studio albums and reached record sales exceeding 20 million albums worldwide, with 10 million in sales certified in the U.S. The band has been nominated for 12 Grammy Awards and won twice for the songs "Wish" and "Happiness in Slavery" in 1992 and 1996 respectively.
In 2003, Rolling Stone magazine placed Nine Inch Nails' album The Downward Spiral at 200 in a 2003 list of The 500 Greatest Albums of All Time. The pub also ranked Nine Inch Nails at 94 in their 100 Greatest Artists of All Time list.
To shop for Nine Inch Nails and Soundgarden tickets, visit BuyAnySeat.com.
About BuyAnySeat.com: An online ticket marketplace, BuyAnySeat.com connects sports, theater and other live entertainment fans to an extensive network of ticket sellers worldwide. The site's simplified listings and navigational tools enable shoppers to easily locate, compare and purchase inexpensive, discounted or lower-priced tickets to virtually all advertised sports and entertainment events around the globe.
The ticket marketplace, which is PCI-compliant and Norton Secured, also provides customers with a complete Worry-Free Guarantee on all ticket purchases. Based in Denver, Colorado, BuyAnySeat.com is a subsidiary of Denver Media Holdings. For more information, please visit http://buyanyseat.com.