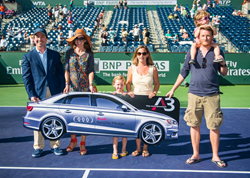 Blue added, "It was a great moment on stadium court presenting Laure and her husband Eric with the prize live."
Rancho Mirage, CA (PRWEB) March 22, 2014
Todd Blue, Chairman and CEO of indiGO Auto Group (IAG), announced today that indiGO Auto Group's Audi Rancho Mirage, located in Rancho Mirage, California, gave away a 2015 Audi A3 2-Year Lease this past weekend at the BNP Paribas Open held at Indian Wells Tennis Garden in Indian Wells, California. Laure Guilmet of Santa Monica, California was the recipient of the prize awarded on the stadium court in front of thousands of tennis fans between matches on Saturday, March 15, 2014.
"Mrs. Guilmet was so excited to hear the news she had won," said Blue. "It was a great moment on stadium court presenting Laure and her husband Eric with the prize live."
More than eight thousand event attendees registered to win the Audi A3 at the Desert European Motorcars display during the tournament March 3 through March 14, 2014. The winner was drawn by Valerie Smith of the law firm Slovak, Baron & Empey LLP at 6:00pm on Friday, March 14, 2014. Mr. Blue immediately contacted the winner by phone.
BNP Paribas Open Director of Business Development Rolf Hoehn said of the contest, "We greatly appreciate the way in which our partner indiGO Auto Group's Desert European Motorcars engaged our attendees during the 2014 BNP Paribas Open. The Audi Rancho Mirage giveaway promotion created a lot of interest among our fans and significantly enhanced their experience during the event."
Desert European Motorcars was a first time Contributing Sponsor of the BNP Paribas Open, a combined ATP World Tour Masters 1000 and WTA Premier event featuring the top men and women professional players competing in a 96 singles draw and 32 doubles draw. This year the tournament drew over 430,000 people to watch the best tennis players in the world over a two week period. Desert European Motorcars featured eight vehicles on display, including the Audi A3 from Audi Rancho Mirage.
The all-new 2015 Audi A3 is completely redesigned from the previous model. Starting at $29,900, the all-new Audi A3 is loaded with many standard features (such as leather seating, a sunroof and Bi Xenon headlights) which are options on the Mercedes CLA. The Audi A3 is a 'game changer' with category-leading features and is the luxury car which didn't forget the luxury.
For more information about Todd Blue, indiGO Auto Group dealerships and events, visit http://www.indiGOautogroup.com.
About indiGO Auto Group:
indiGO Auto Group is comprised of nine world-class luxury automotive brands with dealerships in Rancho Mirage, California and Houston, Texas. Chairman and CEO, Todd Blue is a lifelong car enthusiast and collector and is a hands-on Dealer Principal within each of the company's thriving dealerships. indiGO's California dealerships are well known throughout Southern California as Desert European Motorcars, which includes Rolls-Royce Motor Cars Rancho Mirage, Bentley Rancho Mirage, Aston Martin Rancho Mirage, Jaguar Rancho Mirage, Land Rover Rancho Mirage, Porsche of Rancho Mirage, Audi Rancho Mirage, and Maserati of Rancho Mirage. indiGO Auto Group Texas includes Porsche of North Houston, Lamborghini Houston, the United States' leading factory authorized Lamborghini dealer, and indiGO Classic Cars, Houston's finest heritage dealership specializing in post war European sports cars, American classic, and vintage motorcars.