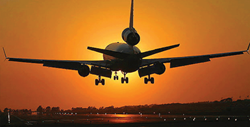 Carrollton, Texas (PRWEB) March 20, 2014
Preferred Utilities Manufacturing Corporation, a combustion engineering-based manufacturer of mission critical products since 1920, recently successfully completed a fuel oil project at a Texas-based mission critical airline communication center (ACC). In the wake of the recent disappearance of Malaysia Airlines flight 370, Preferred Utilities highlights the importance of maintaining and servicing the power centers for mission critical facilities through their recent project.
The mission critical location that Preferred Utilities serviced houses the ACC for one of the largest airlines in the country. According to Federal Aviation Administration guidelines, airlines must be in constant communication with all active planes in the air. This makes it critical for power and generators to be serviced and maintained. If the ACC loses power, all planes under their control are immediately grounded, causing major delays and safety concerns for the flights in the air.
To increase the safety and availability of power, Preferred Utilities designed a plan to move the fuel system and generators of the ACC below ground to protect against potential tornadoes, common near the Texas-based center. During the project, Preferred Utilities moved the three generators, each with it's own over-sized belly tank, and fuel supply system below grade.
The company even provided Model 3 fill boxes so the fill connections for the belly tanks could be housed underground for increased usability. In addition to being tornado resistant, the Preferred Utilities Model 3 fill boxes could also be hidden under mulch and behind shrubberies to offer an aesthetically pleasing appearance.
Should the grid-power fail in the building, the Preferred Utilities PWC-based fuel controller provides tank gauging, leak detection, and overfill protection for the belly tanks for the three generators. The Preferred Utilities system provides tank volume display at the fill port, as well as an overfill alarm at 85% full, and will shut off the fill line at 95% full.
Each generator has enough fuel to power the building for at least 24 hours. In addition, the airline pays a steep premium to be high priority for fuel delivery trucks. Their priority level is just below local hospitals in an emergency.
About Preferred Utilities Manufacturing Corporation:
Preferred Utilities is the single-source umbrella for all mission critical needs. Services include customized engineering, consulting, installation, and scheduled maintenance.
Other products include fuel oil handling systems and components, boiler instrumentation and controllers, high-end burners, and nuclear power plant outage-reduction tools and component parts.