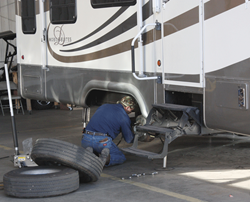 We love talking to our customers, educating them on our components, and helping them choose upgrades that fit their needs.
Goshen, Indiana (PRWEB) March 20, 2014
Lippert Components, Inc. (LCI®) provided hands-on product support, showcased new aftermarket products, and worked with area dealerships, including RV Lifestyles and Paul Evert's RV, to install popular aftermarket products at the 31st annual Quartzsite Sports, Vacation and RV Show on January 18-26.
"Quartzsite is one of the biggest shows, attracting more than 150,000 RV enthusiasts from all over the country and presents a great opportunity for us to showcase products and talk with customers," said April Klein, LCI Vice President of Customer Support Services.
LCI's Customer Support Services team spent much of their time with customers answering questions, providing hands-on product operation demonstrations and getting feedback on products. During the show many attendees upgraded their RVs with innovative LCI products. The Customer Support team reported that they installed several Level Up systems and Denver Mattress products. Attendees also showed particular interest in LCI's Toylok, Slide-Out Slicker and RV Lock products.
LCI Director of Aftermarket Sales Steve Paul emphasized that the Quartzsite RV Show is an excellent time to work directly with end users. "We love talking to our customers, educating them on our components, and helping them choose upgrades that fit their needs." He added, "Customers get really excited when they realize they can upgrade their existing RV with the same exciting products featured on new RVs."
RV Lifestyles Owner and Manager James Angerami said he appreciated LCI's presence at the show and received positive feedback from customers on their newly installed LCI products. "The LCI team provided installation support and assistance and satisfactorily answered product questions. Our customers are very happy with their upgrade products and since the show we've made several appointments to install more LCI aftermarket products!"
Jim Hardy, General Manager of Paul Evert's RV's Northwest locations, was also glad to see LCI out at the show. "We really appreciate having Lippert at the rally to perform upgrades for so many of our customers who bought new and used units. It helped us in our goal of 100 percent customer satisfaction."
A show attendee, Larry Young from California, posted on LCI's Facebook page to thank the company for its comprehensive customer support. "LCI Technical Service Representative Ron McCoy was professional, knowledgeable and very courteous. Lippert went the extra mile to assure my safety and satisfaction."
For more information on LCI products, visit LippertComponents.com.
About Lippert Components™:
From 34 factories located throughout the United States, Lippert Components, Inc. (LCI®), a subsidiary of Drew Industries Incorporated (NYSE:DW), supplies a full line of components for the leading manufacturers of recreational vehicles and manufactured homes. In addition, Lippert Components manufactures components for adjacent industries including buses; trailers used to haul boats, livestock, equipment and other cargo; modular housing; and factory-built mobile office units. Lippert Components products include steel chassis; vinyl and aluminum windows and screens; slide-out mechanisms and solutions; axles and suspension solutions; furniture and mattresses; thermoformed bath, kitchen and other products; manual, electric and hydraulic stabilizer and lifting systems; chassis components; entry, baggage, patio and ramp doors; entry steps; awnings; electronics; aluminum extrusions; and other accessories. Additional information about Lippert Components and its products can be found at http://www.LippertComponents.com.
Lippert Components, Inc.
3501 County Road 6 East
Elkhart, IN 46514
574-535-1125