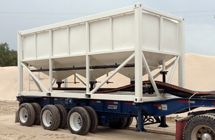 The product has been certified by the American Bureau of Shipping standards
Atlanta, GA (PRWEB) March 25, 2014
Portare Services LLC, an innovator in aggregated transportation services, has secured controlling interest in PassBox LLC and completes funding to launch its cutting-edge aggregate shipping container to the marketplace.
As companies struggle to find more efficient and effective ways to transport aggregated materials, Portare Service is bringing PASSBOX™ (Portable Aggregate Supply System) to the marketplace at an accelerated pace. "We are really excited to be at this point of our maturation to hit the market running. The product has been certified by the American Bureau of Shipping and has been vetted by some of the market's leading
companies. All are signaling that this product is ready to fill a burgeoning market need" said Ted Weyn, newly appointed CEO.
As the US and global markets continue to transport highly valuable and potentially volatile aggregate materials such as ceramic proppant, organic fertilizers and frac sand, companies are looking for better ways to maintain product integrity, transportation timing and handling efficiency. PASSBOX™ enables aggregates to be shipped
from source to destination without transferring the materials from one container to another. Traditionally, when transportation containers are filled at the source (silo, mine, farm, dig, pump, etc.), the contents must eventually be trans-loaded at each exchange point (truck, rail, ship, etc.). Now with Portare Services' PASSBOX™, companies only need to fill the PASSBOX™ once and utilize all transportation modes without ever having to transfer the contents. Trans-loading contents inherently leads to exposing valuable materials to the elements and causing potential degradation. Since the PASSBOX™ is removable and stack-able; it also eliminates costly demurrage inefficiencies. This is a game changer. In a side-by-side analysis, customers save up to 30-40% on handling costs by using the PASSBOX™.
Watch a Video Overview of the PASSBOX ™
For More Information Contact:
Portare Services, LLC, 470-299-9977 x3, info(at)portareservices(dot)com
About Portare Services LLC.
Portare Services LLC is a leading sales, marketing, distributor and innovator for the aggregate shipping and transportation service industry. A pioneer in the transportation industry, Portare Services is instilling a safer and more efficient method of transportation industry.
Derived from the Latin word Portare, ("to carry"), Portare Services will deliver it's PASSBOX™ transportation system to assist companies who need to transport materials such as; frac sand, ceramic proppant, caustic fertilizers, and other precious aggregates, in a more efficient manner.