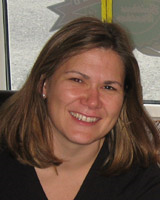 With gentleness and care and clarifying honesty Kristin points out the ways I am defending against certain feelings. Then, she is able to be remarkable compassionate as I bravely allow myself to feel them....
London, UK (PRWEB UK) 20 March 2014
Kristin Osborn is offering psychotherapy consultations on 1-3 April 2014 at 58 South Molton Street, London W1K 5SR. A typical consultation is at least 3 hours. Many therapists find block therapy helpful in resolving temporary or long-standing therapeutic problems. For instance it can help when patient resistance or counter-transference is preventing treatment from moving forward and experiencing resolution of presenting problems; when a patient has been deeply traumatised and needs exposure therapy to access their emotions; if attachment issues are preventing a patient's capacity to experience closeness with others; or if the therapist is needing to work through their own emotional blocks.
Pre consultations and questions can be sent to ronete(at)ronete-cohen-therapy(dot)co(dot)uk
Affect Phobia Therapy (APT) is a Short Term Psychodynamic Psychotherapy model that uses experiential and cognitive techniques to accelerate the therapeutic process. In session, an APT therapist works in collaboration with their patient to access avoided and unconscious emotion, in order to relieve emotional and relational distress.
Affect phobia – or fear of feelings – is the unifying concept behind Affect Phobia Therapy (APT), a form of psychotherapy, which has grown out of decades of research on Short Term Psycho-dynamic Psychotherapy. APT integrates techniques from psycho-dynamic, cognitive-behavioral and experiential therapies, to increase the effectiveness of therapy and help the process to proceed more rapidly. You can learn more about APT at http://www.affectphobiatherapy.com.
Kristin A.R. Osborn M.A. LMHC
For the past 20 years, Kristin Osborn has offered psychodynamic, emotion-focused therapy to adolescents, adults, families and groups. She is the lead teacher and supervisor of Affect Phobia Therapy, an integrative therapy model developed by Harvard Medical School researcher, Leigh McCullough, Ph.D. Kristin offers trainings for therapist and coaches in North America and Europe and she is the Director of Harvard Medical School Psychotherapy Research Program and the President of the International Experiential Dynamic Therapy Association (IEDTA). She wrote a chapter for "Clinical Strategies to Become a Master Psychotherapist" (2005) and co-authored an article in the 2011 July Psychotherapy Journal, "Learning how to rate video-recorded therapy sessions: A Practical Guide for Trainees and Advanced Clinicians" and is currently co-authoring two books. You can learn more about Kristin at http://www.kristinosborn.com.
ABOUT 58
58 South Molton St. is an inspiring and nurturing centre, one that would equally benefit clients looking for treatments by the very best people in their field; therapists looking for rooms in a chic yet uplifting environment; and businesses looking for meeting and events facilities in an upmarket yet relaxed setting.
This stunning architectural gem is an oasis of calm conveniently located in the heart of London.
The atmosphere here is that of a harmonious community based on well-being, professionalism and outstanding service.