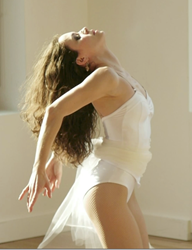 It's a question of female identity in today's world
New York, NY (PRWEB) March 20, 2014
Noted for her depth and daring, dance-theatre artist, Suzana Stankovic, will premiere Mistress of the Hour, a confessional, avant-garde work at The Tank Theater, 151 west 46th Street in New York City, from March 21st - April 6th, 2014, Fridays - Sundays at 7:00pm except Sunday, April 6th at 3:00pm for a total of nine performances.
Inspired by the work's message and in honor of women's history month, proceeds will be donated to MADRE, a non-profit organization demanding rights, resources and results for women worldwide. A matching gift from an anonymous philanthropist will double the donation. Tickets are $15 online, $18 at the door and can be purchased here. Mistress of the Hour will be on a shared bill with the Tank's curator of theatre and artistic director of Lamb Lays with Lion, Jeremey Catterton, who will present a 40-minute play in the vein of the theatre of disruption.
Mistress of the Hour is a 30-minute, immersive and seamless, dance-theatre work fusing dance, poetry, spoken text and theatre to explore, question and reinterpret centuries-old female archetypes such as, 'girl/woman', 'virgin', 'slut', 'bitch', 'bride' and 'mother'. Suzana Stankovic states, "females are still conditioned more or less, to be a pretty princess, to be nice girls and people pleasers lest they should be called a bitch, yet this is in contradiction to our so-called equality...it's an interesting question of female identity in today's world." Mistress of the Hour is performed by dancer-actor, Vincent Louis Marra in the lead male role and Suzana Stankovic in the lead female role of the Mistress.
Beginning with a dramatic solo by Stankovic that incorporates elements of performance art, Stankovic's character unearths aspects of her psyche to confront and release subconscious fears, desires, doubts, beliefs and obsessions that have been deluding her and impeding her quest for liberation. References to death, birth and metamorphosis are interwoven throughout, both in choreography and text, recorded and spoken, to make for a surreal world brimming with feral beauty, spirituality and humanity in which the audience is fully immersed.
At various points during the performance, Stankovic breaks the fourth wall and makes her way into the audience to interact with and feed off their energy whom she calls her, "strangers, lovers and confidantes." They bear witness to her self-liberation, which unfolds via episodes of psychological and physical unraveling heightened by the intimacy of the Tank Theater. "The energy between the audience and me is meant to be very electric. It's not a contrived performance but rather a real unmasking and disrobing of the private self in front of a room full of voyeurs."
Mistress of the Hour features poetry excerpts by Emily Dickinson, text by Suzana Stankovic, sound design by Andy Altmann and music by Abel Korzeniowski and Jacques Brel delivering a message of self-liberation and independence that is both universal and timeless, "I left the crowd. I entered the place I feared. I bit through blood, dirt and bone and birthed myself at last" - Suzana Stankovic
Suzana Stankovic is an independent dance-theatre artist, a formally trained dancer and actor in equal measure. Her credits include appearing in principal roles alongside Tony Award-winners; dancing in classical ballets, experimental dance works and music videos; starring in independent films and plays and blazing her own trail with her self-created cross-disciplinary works. She has presented her work on many of New York City's finest stages to widespread praise. Suzana is also a teaching artist at AFA Dance and a regular contributor to the 'Experts Column' of Backstage.com. Her articles be found here. For all about Suzana Stankovic visit iAmSuzana.com.
Vincent L. Marra began his training in ballet and modern dance at the Nassau BOCES Long Island High School of the Arts in Syosset, New York. Continuing his studies, he attended the Purchase College Conservatory of Dance and received his BFA in May 2011. He has since danced with the Eglevsky Ballet, the John Byrne Dance Company/David LaChapelle Dance Project, Neville Dance Theatre, the Covenant Ballet Theatre of Brooklyn, Ballet Long Island, the Brooklyn Ballet, Ballet Inc., Encounters Dance, off-broadway and other dance projects in New York City.
Jeremey Catterton is an actor, director, curator of theatre at The Tank Theater and artistic director of the theatre company, Lamb Lays With Lion. He has studied theater in the United States and England, earning several degrees, and enjoys working in the vein of the theatre of disruption. For complete information about Catterton and his work visit LambLaysWithLion.org.
Founded in 2003, The Tank Theater is a Manhattan-based non-profit arts presenter. Curating across all disciplines, The Tank provides an artistic home to both new and established artists who are engaged in the pursuit of new ideas. Combining free performance space, subsidized rehearsal space, discounted ticket prices and promotional support; the Tank brings quality programming to a new generation of audience for live performance, civic discourse, and the work of emerging artists. The Tank is a volunteer-run organization and a curated space. For all about The Tank visit, TheTankNYC.org.
To view the promotional video for Mistress of the Hour click here.