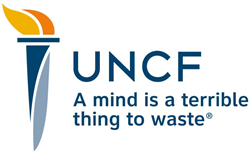 Washington, DC (PRWEB) March 19, 2014
Dr. Michael Lomax, President and CEO of UNCF (the United Negro College Fund) will be the featured speaker at a National Press Club Speakers Luncheon on Tuesday, March 25th from 12:30pm - 2:00pm. As UNCF celebrates its 70th year, Dr. Lomax will discuss will discuss a wide range of issues surrounding educational opportunities for students of color. He will specifically address the financial crisis facing Historically Black Colleges and Universities (HBCUs), which graduate over 20 percent of all African Americans.
Dr. Lomax was recently appointed a member of the President's Advisory Commission on Educational Excellence for African Americans on January 16th. Dr. Lomax has said, "I believe the greatest economic development program, the greatest anti-crime program, and urban vitality program is a good education. Give young people a sense of opportunity and belief in themselves."
WHO: Dr. Michael Lomax, President and CEO UNCF
WHERE: National Press Club, 529 14th Street, NW, Washington, D.C. 20045
WHAT: National Press Club Speakers Luncheon
WHEN: Tuesday, March 25th, 2014 / 12:30pm - 2:00pm
Note: Remarks will begin at 1:00pm followed by a question-and-answer session.
About UNCF
UNCF is the nation's largest and most effective minority education organization.
Since its founding in 1944, UNCF has raised more than $3.6 billion to help more than 400,000 students receive college degrees at UNCF-member institutions and with UNCF scholarships.
UNCF plays a critical role in enabling more than 60,000 students each year to attend college and get the education they need and that the nation needs them to have by:

Awarding 10,000 scholarships and internships under 400 programs for students from low- and moderate-income families to attend more than 900 colleges and universities across the country;
Providing financial support for its 37 member historically black colleges and universities (HBCUs) for scholarships and capacity building;
Advocating nationally for the importance of education and college readiness through its annual television program, a national public service announcement campaign, and commentary in national media;
Advocating locally at events across the country such as Governor's and Mayor's luncheons, Walk for Education events and Mayor's Masked Balls.