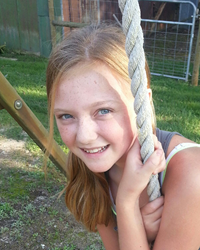 Greensboro, NC (PRWEB) March 20, 2014
From outward appearances, Sydney White is a typical 12-year-old girl. She dreams of being an actress or model when she grows up and enjoys competing with her clogging team. But this resident of Julian, NC is anything but typical.
Sydney is the recipient of the 2013 Kimberly S. Roberts Servant's Heart Award. This award was created by Crumley Roberts to recognize and support positive impacts in our community and is based on the characteristics of service to others. Sydney was nominated by her aunt, Brandy McArver who serves as the Intake Supervisor at Crumley Roberts, and was selected to recognize her ongoing fundraising efforts for Victory Junction, a camp for children with chronic medical conditions or serious illnesses located in Randleman. In honor of Sydney's work, Crumley Roberts made a $5,000 donation to Victory Junction. Chris Roberts, President and CEO of Crumley Roberts, and his wife, Kimberly, V.P. of Cultural Development, presented the award to Sydney on Wednesday, March 19 at the Crumley Roberts office in Greensboro.
"I believe that service to others is the core of our existence, we were put on this Earth to help others and that we are no better off, collectively, than the person among us who is suffering the most," said Kimberly Roberts. "We are so proud of the work that Sydney has done and humbled to join with her in supporting the cause of Victory Junction."
Since 2008, Sydney has raised more than $30,000 for Victory Junction. After her grandfather died, the family asked for donations to Victory Junction in lieu of flowers which piqued her curiosity about the camp. For her birthday that year, Sydney asked for cash instead of gifts so that she could give it to Victory Junction. Her passion for supporting the camp has only grown from there and she has organized countless fundraising events including softball and golf tournaments, bake sales, special parties and a walk-a-thon at her school.
"When I think about all that Sydney has done, I glow with pride," says her mother, Kathy Straughan. "She has such a giving spirit and has a way of pulling the community together for good. I have no worries that she is going somewhere in life."
John McKee, President of Victory Junction, accepted the donation and offered thanks on behalf of the camp to Sydney for her years of significant support. "As we celebrate our 10 year anniversary, we also celebrate Sydney, and other generous supporters, who help ensure we can provide life-changing experiences for those we serve," said McKee. "We greatly appreciate Sydney's loyal support and her desire to make a positive difference in the lives of others."
Founded in 1989, Crumley Roberts, LLP, represents individuals in the areas of personal injury, drug injury, product liability, workers' compensation, and Social Security disability. The firm operates 13 offices in North Carolina and South Carolina. To learn more about the firm, visit CrumleyRoberts.com.
Victory Junction enriches the lives of children with serious illnesses by providing life-changing camping experiences that are exciting, fun and empowering, at no cost to children or their families. Opened in 2004, the camp is a member of Paul Newman's renowned SeriousFun Children's Network and is accredited by the American Camping Association. For more information, visit, VictoryJunction.org.