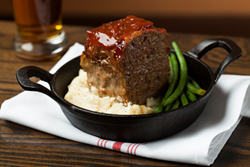 Wilmington, MA (PRWEB) March 20, 2014
Red Heat Tavern, a highly anticipated restaurant, will open in Wilmington, Massachusetts on March 25, 2014.
Red Heat Tavern is the community gathering place to share excellent meals and great conversation in a fun, relaxed atmosphere. "The passion here is fueled by fire, flavor, and friends. Our homemade style food is created with bold flavor profiles and paired with craft beers and classic cocktails. It is truly refined simplicity!" says CEO, Kevin Harron.
Red Heat Tavern is a new restaurant concept under the parent company, Burtons Grill, LLC. Burtons Grill, LLC, has 10 restaurants in the Northeast and the South. Red Heat Tavern is the newest edition to a hospitality company with marked success in building and operating restaurants. A casual restaurant, Red Heat Tavern serves Contemporary American Cuisine that is expertly prepared while still remaining value conscious. It is a warm and welcoming restaurant with over 200 seats with a 32-seat bar and a seasonal patio. Wilmington is in need of a warm and friendly place with fresh, creatively prepared food, and Red Heat delivers: A place where you will always get the best service, finest ingredients, and most refreshing drinks.
Red Heat Tavern's food selections will revolve around live fire and high heat hardwood charcoal cooking methods, which impart unique smoky aromas with global comfort food influences. The Josper Charcoal Oven will be a unique aspect to the restaurant, as there are few restaurants in New England who utilize this type of cooking. This oven will give a smoky flavor to certain entrees, giving the guest the taste of their favorite backyard grilling foods. The use of live fire and charcoal infuses flavors that appeal to the whole family.
The menu will be available all day. Appetizers will range from $6 to $10. Entrees will range in price from $10 to $18. The trendy bar will offer over 50 beers and 24 wines by the glass.
Visit us at http://www.redheattavern.com!