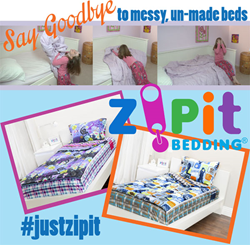 Los Angeles, CA (PRWEB) March 20, 2014
Zipit Bedding – America's first all-in-one zippered bedding, is riding the wave of success, after their appearance on ABC's hit TV show "Shark Tank" – selling record numbers of inventory in just one week and causing a social media storm following their episode airing on Primetime Television.
Despite walking away without a deal from the millionaire and billionaire tycoon "Sharks" so they could stay true to their vision, Zipit Bedding's success post-"Shark Tank" has been undeniable. Though the "Sharks" said they would never make a commercial, much less launch a National DRTV campaign, Hayley and Jennifer have proved them wrong. Zipit Bedding's National TV commercial aired to millions of viewers the exact same week their "Shark Tank" episode aired.
Sister inventors Jennifer MacDonald and Hayley Carr are now feeling the "Shark Tank Effect", since the show aired. Coupled together with the national ad campaign, they have been shipping out thousands of Zipit Bedding sets to parents and kids across the US and the feedback has been overwhelming! Kids love Zipit Bedding because it's easy to make, glows-in-the-dark, and is fun -- and parents love Zipit Bedding because it's so easy to clean, and they no longer have to nag their kids to make their beds! Believe it or not, kids are now EXCITED to make their beds! Zipit Bedding's not just for kids though. Many other demographics and communities such as parents with special needs kids, senior citizens and college students, have all reached out to Zipit Bedding to request sets.
Zipit Bedding began when Jennifer, a former advertising executive and mom of three, was tired of the daily struggle of getting her kids to make their beds. Then one morning after hosting a sleepover, she had an "Aha!" moment. She watched her youngest son simply zipping up his sleeping bag and "Voila!" – the once messy room was clean! She quickly realized that by combining the ease, fun and simplicity of a sleeping bag, with the look and feel of conventional stylish bedding, she would be able to solve her problem and finally put an end to the age-old battle between parents and their kids. Jennifer sought the help of her sister, Hayley Carr, a businesswoman and inventor-at-heart, to develop the product.
Their current line (geared towards kids aged 4-13) features bright, fun and uniquely themed current prints, with reversible tops that are pre-coordinated to interchange with other Zipit Bedding sets. Plus they all glow-in-the-dark!
Other product features and benefits:

Makes the chore of making your bed Fun and Interactive
Make and change your bed in seconds
NO MORE kicked off covers, kids stay tucked in and warm all night
Wash and fit as one piece
Perfect for hard-to-make bunk beds, trundle beds, air mattresses, Murphy beds and more
Zippered side pockets to store your stuff through the night, like: cell phone, retainer, diary, flashlight and more
Zipit Bedding is currently available in limited quantities with certain styles already in backorder at http://www.zipitbedding.com. Twin sets sell for $49.99 and full sets are $59.99, with more prints and sizes coming soon. Plus, customers receive a 10% discount on each additional set ordered.
To schedule an interview with sister inventors Hayley Carr and Jennifer MacDonald to discuss Zipit Bedding and the "Shark Tank Effect," please contact: Kelley Coughlan, Melrose PR, kelley(at)melrosepr(dot)com, (310) 260-7901, http://www.melrosepr.com