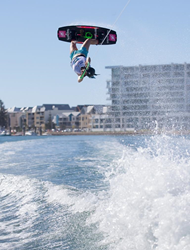 Even though my ankle is getting better, I am still using duct tape to stabilize it. I knew if I rode smart I had a shot at winning.
Salt Lake City, Utah (PRWEB) March 20, 2014
MonaVie Team Rider Raimi Merritt, the winningest World Cup Champion in women's wakeboarding, dominated the water at the IWWF Waterski and Wakeboard World Cup in Mandurah, Australia, last weekend to claim her ninth World Cup victory. The event ran March 15–16, 2014.
Merritt, 20, was sidelined for much of the 2013 pro wakeboarding season with a broken ankle that refused to heal. By late summer, she was fed up. She had the cast cut off her ankle, improvised a splint out of duct-tape, and roared back at the IWWF Wakeboard World Championships in Korea with a win that surprised everyone including herself. But Merritt's win came at a price, and she had to undergo surgery on her ankle in October.
Her recovery from surgery impeded her practice through much of the winter, but Merritt was determined to return to competition for the first event of 2014, the World Cup in Australia. Competing against 11 other pro riders from seven countries, Merritt rode strong. For her wild card bonus trick in the finals, she threw down her signature S-Bend—a trick she hadn't performed since the World Championships in Korea late last summer because of the extreme height and impact on her ankle. She nailed the trick, and edged out a narrow lead over Nicola Butler (GBR) to win gold.
"I went to Australia knowing I wasn't back 100 percent from ankle surgery," said Merritt after her win. "Even though my ankle is getting better, I am still using duct tape to stabilize it. I knew if I rode smart I had a shot at winning. I rode well enough in the semis to be the top seed in the finals, which allowed me to ride last off the dock. A door was opened, and I was able to capitalize in the Land Down Under! It feels good to start the season off with a big World Cup win."
Merritt will be competing next at the Wake Games hosted by Nautique Boats in her home town of Orlando, Florida, April 24-27, 2014.
About Raimi Merritt
Merritt grew up in Lantana, Florida, and began competing when she was 11. She lives and trains in Orlando, and is studying business as a sophomore in college. For more information about Merritt, visit: http://www.raimimerritt.com. Fans can also connect with her at Facebook.com/MerrittRaimi, Twitter.com/MerrittRaimi, and Instagram @RaimiMerritt.
About MonaVie
Since 2005, MonaVie has developed premium products dedicated to promoting health and wellness worldwide. With distribution in 40 markets, MonaVie addresses four key areas necessary for optimal health—Nutrition, Weight, Energy, and Stress—with products made from the best and rarest ingredients on Earth. The products, in conjunction with MonaVie VIEW Antioxidant Scanner, empower people to live healthier, more meaningful lives. That greater meaning is revealed through our heartfelt commitment to doing good in the world and by helping children and families in need through the MORE Project. Start living A More Meaningful Life today and discover the true, life-changing power of MonaVie. Learn more at http://www.monavie.com, or connect with us on social media.