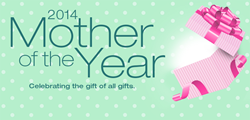 We here at the LC have a special place in our hearts for Mother's Day and we are thrilled to provide this exclusive opportunity to honor mothers everywhere. We would love to hear from you and how your mom has touched your heart."
Austin, TX (PRWEB) March 21, 2014
The Liquidation Channel (LC) is eager to announce the return of the Mother of the Year Contest, just in time for Mother's Day. Participants that enter the contest will have the opportunity to win a $2,000 jewelry package.
Nominations for The Mother of the Year 2014 contest will begin on March 21st through April 18th. All participants are required to submit a picture of the nominee, along with a 500 word or less essay explaining why their mother deserves to be Mother of the Year. The community will then vote for the top 10 finalists April 21st through 27th. LC's social media panel and the community will then determine the winner of the Mother of the Year 2014 contest.
Every submission will be given a promo code and placed in a random drawing to receive either an LC tote or water bottle. The top 10 finalists will receive a small jewelry prize package containing a pair of earrings and a pendant.
The Mother of the Year for 2014 will be announced on air on Mother's Day, May 11th, and the winner will receive the grand prize of a $2,000 jewelry package.
LC President, Gerald Tempton says, "It has been said that mothers hold their child's hand for a moment and their heart for a lifetime. We here at the LC have a special place in our hearts for Mother's Day and we are thrilled to provide this exclusive opportunity to honor mothers everywhere. We would love to hear from you and how your mom has touched your heart."
Stay tuned on Sunday, May 11th as LC reveals the winner of their 3rd Annual Mother of the Year Contest on Facebook. Visit http://www.facebook.com/shoplctv to find out who wins.
For More Information Contact:
Carolina Sandoval
Marketing Specialist
512- 901-0621
carolina(dot)sandoval(at)liquidationchannel(dot)com
About Liquidation Channel: Liquidation Channel (http://www.liquidationchannel.com) is a global leader in direct sales of colored stones, diamonds, precious metals, and a variety of luxury goods and innovative products. Through a precisely and fully integrated system, the Liquidation Channel specializes in delivering Exceptional Quality, Exquisite Designs, and Outstanding Value, while providing a low-price guarantee on each of its products. The store's unique jewelry is available online at LiquidationChannel.com and on DirecTV Channel 75 and 226, Dish Network Channel 274, Verizon FIOS Channel 159, ROKU, AT&T U-Verse 399 and 1399 (HD), and local cable channels.