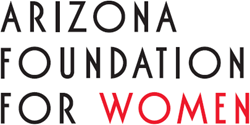 Arizona Foundation for Women invites the Arizona community to invest in Arizona's women and children at the 18th Annual Awards Luncheon on May 15, 2014. You make a difference! Join us and call 602-532-2800 today!
Phoenix, AZ (PRWEB) March 20, 2014
Three extraordinary women will be honored this spring for their outstanding leadership and public service in improving the lives of women and children around the world, joining the ranks of Goldie Hawn, Erin Brockovich, Madeleine Albright and Sally Ride, among other past honorees. The Arizona Foundation for Women creates a better life for Arizona's women and children. Investing in Safety, Health, and Economic Empowerment, AFW believes "SHE Counts!"
Marilyn Carson Nelson, Ambassador Swanee Hunt and Michelle King Robson will be the guests of honor Thursday, May 15, 2014, when honorees and supporters gather for The Arizona Foundation for Women's 18th annual Awards Luncheon at the Arizona Biltmore Resort.
The premier event for the philanthropic organization that aids victims of domestic violence, child abuse, homelessness and sex trafficking, this year's luncheon is based on the theme "I Am the Arizona Foundation for Women."
Marilyn Carson Nelson, the former CEO and Chairman of Carlson, a global hospitality and travel company and one of Forbes magazine's "World's Most Powerful Women," is the recipient of this year's Sandra Day O'Connor Lifetime Achievement Award. A noted human rights activist and outspoken advocate against human trafficking, Nelson was also named one of "America's Best Leaders" by U.S. News and World Reports and one of Ethisphere magazine's "100 Most Influential People in Business Ethics." Ambassador Swanee Hunt will be honored with the organization's Voice for Women Award. The founding director of the Women in Public Policy Program (WAPP) at The Kennedy School and former United States Ambassador to Austria is also an Eleanor Roosevelt Lecturer in Public Policy at Harvard University, and has dedicated more than 30 years of her life to solving some of the world's most pressing problems, among them mental healthcare, public education, gender parity in politics and homelessness. This year's Marilyn Seymann Award will go to Michelle King Robson, an Arizona entrepreneur, women's health advocate and the creator of EmpowHER.com, a website dedicated to women's wellness and health, which she formed to aid other women following her own personal health scare.
All three will be honored for the tremendous dedication they've shown in enhancing the lives of women and children suffering from all-too common issues like domestic violence, gender disparity, poverty and sexual exploitation. Supporters are encouraged to aid The Arizona Foundation for Women's efforts in improving women's safety, health and economic empowerment by registering for this tremendous event and helping the many women and children who benefit from the Foundation's services find the path toward achieving their full potential. For more information on the Arizona Foundation for Women, call 602.532.2800 ext. 3 or email info(at)azfw(dot)org.
Event Details
When: 11:45 am – 1 pm Thursday, May 15, 2014
Where: Arizona Biltmore Resort - 2400 E Missouri Ave, Phoenix, AZ 85016
Who: The Arizona Foundation for Women and its friends and supporters; honorees Marilyn Carson Nelson, Ambassador Swanee Hunt and Michelle King Robson
Registration: Click here to register for this event or visit http://www.azfw.org
Contact: CEO Sara Presler, JD – 602.532.2800