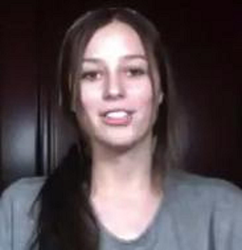 (PRWEB) March 19, 2014
Although this song was originally done by Lynyrd Skynyrd, the version the Zollars teaches in this easy video guitar lesson is closer to the version recorded by Jewel than the original. Paige uses a Capo on the first fret of her guitar for this, but she says "that you don't need one at all if you don't want to". Paige jumps right into this lesson by demonstrating the chords used in the song, which she says are D, C and G, "the whole song is just those three chords in the same order over and over again", says Zollars. She demonstrates the strumming as follows; for the intro she does two down strokes on beats 1 & and then two string slaps for beats 2 & for D and C and then four beats for G 1-2-&-3-4-&, down-down-up-down-down-up. Next for the verse she says that the strumming is the same as the intro except she strums instead of the slap. And finally for the chorus she does the same strum as the verse, just with a little more power behind it to make it stand out. Guitar TAB's and chord charts for this easy guitar lesson are available at SongTabs.com.
A Capo, short for capotasto, which is Italian for "head of fret board", is a device used on the neck of a fretted instrument to shorten the playable length and raise the pitch.
Lynyrd Skynyrd is an American rock band that popularized the Southern Rock genre in the 1970's. In the peak of their success three members's died in a plane crash in 1977. The band still performs to this day with an almost completely different line up.
Jewel Kilcher, aka Jewel, is an American singer/songwriter originally from Payson Utah. She is one of the most commercially successful artists of all time with four Grammy nominations and selling over 27 million albums world wide.
Paige Zollars
Has been a singer and song writer for the last 6 years and performs at fairs and coffee shops in her area. She has an original song "Broken" available on ITunes and works for a company called KlabLab where she makes educational songs for the classroom.
About SongTabs.com
SongTabs.com is a great online resource for learning to easily play your favorite songs on the guitar. With several great instructors and a constant growing catalog of songs, everyone can learn to play there favorite songs.