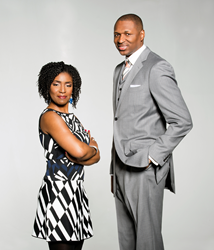 "It's an awesome opportunity to partnership with Open Rivers Pictures," states Ratliff.
Atlanta, GA (PRWEB) March 20, 2014
Open Rivers Pictures announced today the new partnership with NBA Veteran Theo Ratliff's, Ratliff Entertainment, to produce original African-American content.
"It's an awesome opportunity to partnership with Open Rivers Pictures," states Ratliff. "Right now, there is a big demand for African-American content and that is the focus of Open Rivers Pictures—Digital, film and also television."
NBA great Theo Ratliff, known as a defensive beast and league-leading shot blocker during his stellar 16-year career, played for the 76ers, the Hawks, the Celtics, the Pistons, and the Lakers. He was an All-Star in 2001 and also served as Vice President of the NBA Players Association Executive Committee.
"The 2014 partnership with Ratliff Entertainment and his team will allow us to boost and grow our lineup of original content," states Tammy Williams. "Theo, as he was on the court, full of tenacity, is the same way off the court. He's smart and creative and we are looking forward to a great partnership."
The Georgia Film, Music & Digital Entertainment Office, a division of the Georgia Department of Economic Development (GDEcD), recently announced that feature films and television projects filmed in the state of Georgia generated an economic impact of $3.3 billion during the fiscal year 2013—a 29 percent increase from the year before, according to estimates. Filming in Georgia has been on the rise since the Georgia General Assembly enacted the Georgia Entertainment Industry Investment Act in 2008.
"The process of working with Alvin Williams to conduct the due diligence of merging the two companies was extremely smooth and very thorough," states Maurice Anderson, Ratliff's business manager. "I am confident that teaming with Open River Pictures will prove to be successful and impactful due to the executive leadership, industry-related experiences and relationships of both companies. This is truly history in the making!"
For more information about Open Rivers Pictures please visit http://www.openriverspictures.com.
About Open Rivers Pictures
Open Rivers Pictures is a 14,000 square foot television and film studio, with full production capabilities including post production, produces and creates a wide range of projects, including documentaries, commercials, music videos, television and digital series. Open Rivers Pictures is the first African American owned TV and film studio in the State of Georgia.
About Tammy Williams
Tammy Williams is the founder and CEO of Open Rivers Pictures and brings a diverse portfolio of skills to children's programming. She has over 15 years of experience in working with children and youth of all ages. With over 20 years in broadcasting at various network affiliates and independent production companies as a Writer/Producer, she combines both worlds to develop some of the most entertaining content.
About Theo Ratliff
Theo is a quiet-spoken giant with an intense drive to use his status as a role model and business leader to make the world a better place. As president of Ratliff Enterprises, Inc., he oversees a portfolio of diversified holdings in real estate, digital media, financial services, and sport and nutritional supplements.