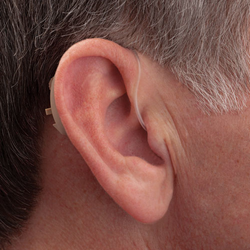 Users report this new tubing is so comfortable they forget they are wearing their hearing aids!
Chicago, IL (PRWEB) March 26, 2014
Thousands of people with hearing loss go untreated year after year because hearing aids can be as uncomfortable on the ear as they are on the wallet. All of that changed in 2010, with the introduction of the MDHearingAid PRO, America's best-selling, low cost hearing aid.
New for 2014, the MDHearingAid PRO, a doctor-designed, audiologist-tested, and FDA-registered hearing aid, comes with a thin tubing system and open-fit ear domes. This innovation is in response to the hearing aid users' requests for less noticeable, more comfortable tubing. "Our customers love the full-bodied sound they get from the premium analog circuitry of the MDHearingAid PRO, but they have been asking for more fitting options like those found on expensive digital aids" says Dr. Sreek Cherukuri, board certified otolaryngologist and founder of MDHearingAid.
"People need to hear. Our primary goal is helping those people who go without hearing aids because of cost. We manufacture high quality hearing aids and challenge ourselves to continually add features our customers want. Our customers asked for increased comfort and we delivered. Many users report that this new tubing is so comfortable they forget they are wearing their hearing aids!"
The MDHearingAid PRO also includes open-fit ear domes which allow air flow and sound to enter the ear directly. Since the PRO targets and amplifies the frequencies of the human voice, users report much greater satisfaction with the hearing aid experience by using open fit ear domes and allowing lower frequencies to enter the ear.
The MDHearingAid PRO has the widest fit range of any ready-fit hearing aid in its price range with up to 45 decibels of gain. The MDHearingAid PRO is one of the lowest priced, highest rated, FDA-registered hearing aid in America and includes a risk-free guarantee and free shipping.
About MDHearingAid®
MDHearingAid manufactures high quality, FDA-registered hearing aids and offers them directly to the consumer. MDHearingAid was founded by a Chicago Ear, Nose, and Throat (ENT) physician to make hearing health accessible to those who could not afford expensive, custom fit hearing aids. MDHearingAid provides superior physician-, audiologist-, and hearing instrument specialist-backed customer service and support 24 hours a day, 7 days a week.