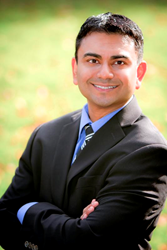 "I have seen a very positive response from many across the nation who have found my book to have a substantial impact on their lives. Using my ASPIRES model, readers have been able to use my program in Optimal Living 360 to reach their goals."
Washington, D.C. (PRWEB) March 20, 2014
Dr. Sanjay Jain has spent the last month traveling around the United States to promote his Amazon.com bestselling book Optimal Living 360: Smart Decision Making for a Balanced Life. That tour continues next week on March 27th in Takoma Park. The event will be held at the Takoma Park Community Center in the Auditorium and is available to the public.
"I am very excited to speak to the members of the Takoma Park Community," said Dr. Sanjay Jain. "I have seen a very positive response from many across the nation who have found my book to have a substantial impact on their lives. Using my ASPIRES model, readers have been able to use my program in Optimal Living 360 to reach their goals."
Dr. Jain has made trips to many cities across the nation including Chicago, Los Angeles, and Charlotte. The book Optimal Living 360: Smart Decision Making for a Balanced Life has been well received as it has received positive reviews by many including the Library Journal, Publishers Weekly, Foreword Reviews, Kirkus Reviews, Readers' Favorite, IndieReader, Dr. James Andrews, and New York Times Best Selling Authors David Bach, Keith Ferrazzi, and Kimberly Foss. The book has also received 4.9 out of 5 stars on Amazon.com and has been consistently rated as one of the top books for Work Life Balance since its release.
The event in Takoma Park will be held at 7500 Maple Ave and will begin at 7 PM. The event does not require a ticket at the door, but a good turnout is expected to it is recommended to arrive early.The event will be locally televised live on multiple cable television stations. Dr. Jain will have a sign-up sheet to assist those interested in ordering his book and will be taking any questions from the audience after his speech.
About Dr. Sanjay Jain:
Sanjay Jain, M.D. MBA is an accomplished medical doctor, health expert; life coach, inspirational keynote speaker, and author who has dedicated his life to helping people find their purpose by achieving a meaningful life that they deeply cherish.
Sanjay Jain is a US trained, board certified physician with over 15 years of clinical experience. He holds certifications in Diagnostic Radiology, Integrative Medicine, and Healthcare Quality and Management. He is a graduate from the accelerated BS/MD program at The Northeast Ohio Medical University. He has diversified experience in the private practice, academic, and integrated multispecialty settings.
He was a former assistant professor at The Ohio State University where he also obtained his MBA at the Fisher School of Business. The combination of which has given him a unique voice and understanding of the many issues we face today in a real and practical sense.
Follow Sanjay on Twitter at @sanjayjainmd. His new book, Optimal Living 360: Smart Decision Making for a Balanced Life(Greenleaf) is available in stores now!