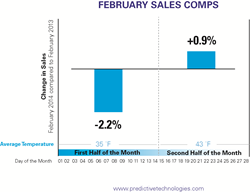 Washington, D.C. (PRWEB) March 20, 2014
Applied Predictive Technologies (APT) today announced that U.S. restaurant sales for the month of February fell [-0.6%] nationwide. But despite the overall February decline, the APT Index, which compares this year's sales to the same period last year, indicated a "polar thaw" as increasing temperatures were followed by an increase in sales comps.
In the first half of February (2/1 to 2/14), the average temperature was 35°F and sales comps were [-2.2%]. However, in the second half of the month (2/15 to 2/28), average temperature climbed to 43°F and sales comps grew to [+0.9%].
The APT Restaurant Index enables restaurant executives to understand their "true comps." Instead of simply looking at year-over-year changes, restaurant organizations can now compare each of their location's sales to restaurant performance in the area surrounding their locations. These insights enable executives to understand if their restaurants are actually under- or over-performing, adjusting for local market factors outside of the control of decision-makers.
Unlike other sources, which use consumer survey data, the APT Restaurant Index is based on reported sales data, allowing APT to make statistically significant observations about restaurant sales. As a result, the APT Index provides the most definitive and accurate restaurant sales analysis available. Beyond capturing sales data from tens of thousands of sales registers, the APT Restaurant Index integrates thousands of other data points, including temperature, precipitation, and demographics, allowing executives to understand how various factors impact performance vs. the Index.
February Restaurant Sales – by APT Index numbers:
The big picture

Overall nationwide sales: [-0.6%]
Number of transactions: [-3.7%]
At a more granular level, the APT Index shows that areas with certain characteristics were impacted more in February. Among these characteristics, change in snowfall had the largest impact.
Impact of year-over-year change in snowfall on restaurant sales

In areas where snowfall decreased, sales increased [+1.9%]
In areas where snowfall increased 0 to 5 inches, sales increased [+0.2%]
In areas where snowfall increased 5 to 10 inches, sales fell [-2.4%]
In areas where snowfall increased 10 to 20 inches, sales fell [-3.3%]
Metro areas most affected
The Top 25 metro areas that performed the best in February were: Boston, MA with a [+6.3%] increase in sales comps; Miami, FL with a [+3.7%] increase; and San Antonio, TX with a [+2.0%] increase. The areas that performed the worst were: Charlotte, NC [-7.7%], Washington, D.C. [-6.0%], and Portland, OR [-5.7%].
[All figures are a year-over-year, same-location comparison between February 1st through February 28th, 2014 and the same dates in 2013.]
Anthony Bruce, CEO of APT, said, "The APT Index allows us to understand how restaurants are performing and how various headwinds and other local conditions impact performance. Although comps were affected by poor weather conditions, such as snow, as temperatures began to increase in the second half of February, sales comps also went up, indicating a 'polar thaw'."
Bruce added, "Using the APT Index, we can provide the industry's most definitive restaurant comps data at the macro level as well as for each local market. The APT Index shows how small changes in factors like the weather can dramatically impact restaurant comps. The APT Index is one of the most robust and accurate ways for restaurants to answer questions such as: What should any given restaurant's performance be, based on how nearby restaurants are doing? How can we determine if some restaurants are really over- or under-performing, or if their performance is due to what's happening in their local area? How do we perform compared to surrounding restaurants when we run a national ad campaign? We are seeing a lot of excitement among restaurant executives in using the APT Index to answer these and other mission critical questions."
For more information, visit: http://www.predictivetechnologies.com.
About APT
APT is the world's largest purely cloud-based predictive analytics software company. APT's Test & Learn software is revolutionizing the way Global 2000 companies harness their Big Data to accurately measure the profit impact of pricing, marketing, merchandising, operations, and capital initiatives, tailoring investments in these areas to maximize ROI. APT's client portfolio includes Walmart, Wendy's, Starbucks, Panera, Subway, Lowe's, SunTrust, Hilton Hotels, and others. APT has offices in Washington, D.C., San Francisco, London, Taipei, and Tokyo. Visit http://www.predictivetechnologies.com to learn more.