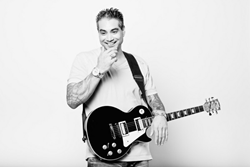 Fort Lauderdale, FL (PRWEB) April 08, 2014
Dyce Kimura will begin April with a promotional offer for students seeking a virtual experience – both in person and online classes are available. For the month of April, any student who wishes to take Skype guitar lessons will receive a 35% discount on their first class when they mention the "April Skype Special" promotion.
Students may also choose to supplement their in-studio work with Fort Lauderdale guitar teacher Dyce Kimura by registering for additional classes using the Skype option.
Dyce has been a working musician and popular guitar teacher for many years and is a well-known member of the local Fort Lauderdale music community. Having developed both his in- studio and online courses over the years, Dyce has an extensive international network of current and former students. One student noted, "I have benefitted tremendously from Dyce's expert knowledge of the guitar and his supportive teaching style. He is encouraging and patient – I would recommend him to anyone looking for a worthwhile guitar lesson."
Searching for a way to promote his teachings beyond the Fort Lauderdale area, Dyce Kimura began working and teaching in the online education space several years ago by offering lessons as a Skype guitar teacher. Dyce said, "The technological advances in video capability and e-learning collaboration are phenomenal in the 21st century. I wanted to package my expertise as a guitar player and teacher and replicate the in-studio instructional experience with students online."
Dyce also commented, "It's great that in 2014 we have so many options for students to interact and receive quality instruction. Students can work with me in-person and virtually – it opens the door for more opportunities."
Fort Lauderdale guitar lessons with Dyce are available for musicians at all levels. Dyce works with beginners to professionals alike, as well as both children and adults. He instructs on both the electric and acoustic guitars and encourages students to reach out to him for a lesson, regardless of the musical genre in which they want to learn. Dyce is a seasoned instructor with the capability to instruct in any genre.
The discounted offer for April will last the entire month, and Dyce encourages students to enroll early. Students may enroll through his website dycekimura.com or contact him at the information listed below. The price for both private studio and Skype lessons is also available on the website. Other information about the musician's bio and mission can be viewed by visiting the website as well.
Dyce Kimura is a professionally trained Fort Lauderdale guitar teacher offering lessons both in-person and online.
Contact:
786-457-3687