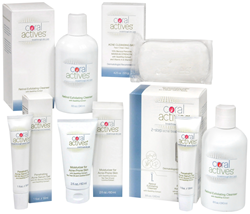 We could not be happier about our future with ICTV. Their passion to bring great products to consumers is admirable, Ermis Labs.
Columbia, MD (PRWEB) March 25, 2014
How do you make a great acne product even better? Get it to millions of acne sufferers across the globe. International Commercial Television, Inc. (ICTV) will be able to do just that. Their success in Direct Response advertising along with the proven formulations of CoralActives will provide the foundation necessary to help people with acne experience clear and healthy skin.
This agreement extends ICTV's presence in the health, wellness and beauty industries and gives it an ability to offer its customers and audience a differentiated solution in the acne treatment and skin cleansing area.
Whether you are a teen with your first signs of acne or in adulthood still dealing with occasional breakouts, CoralActives Acne Products will provide effective results with two simple steps that are well tolerated on the skin and include a renewable ingredient to help reduce redness and irritation - Sea Whip Coral Extract.
Their Retinol Exfoliating Cleanser promotes good skin health for all skin types. Its ability to prepare the skin to receive the Penetrating Acne Serum makes it the perfect partner in the fight to treat acne. The cosmetic elegance of the acne serum and its 6% benzoyl peroxide strength make it a winning combination for mild to moderate acne.
Additionally, the CoralActives Retinol Exfoliating Cleanser was developed with sensitive skin in mind. It combines a very unique encapsulated retinol delivery system with very fine exfoliants and Sea Whip Coral Extract. The CoralActives Penetrating Acne Serum Gel goes on light and dries quickly.
About Ermis Labs:
Ermis Labs is a Medicated Skin Care Company focused on providing over-the-counter (OTC) products that are safe, effective, well tolerated and affordable. Their focus on high-quality ingredients partnered with professional counsel from dermatologists, plastic surgeons and pharmacists has resulted in Medicated Skin Care products that are extremely effective and a great value.
For more information about their products, visit http://www.coralactives.com.