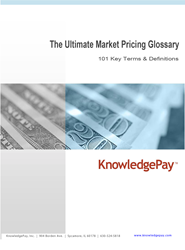 Sycamore, IL (PRWEB) March 21, 2014
KnowledgePay, Inc., a market pricing software provider, announced today that it has released a new publication titled, The Ultimate Market Pricing Glossary: 101 Key Terms and Definitions, which can be downloaded for free from its website.
Market pricing is clearly the primary method companies use to evaluate their jobs according to the WorldatWork; however, there has not been a comprehensive collection of the terms and concepts used by practitioners when conducting market pricing. This glossary serves as the foundation for making sure there is a common understanding of the key concepts. "The idea for putting this glossary together came from all the work we do with compensation folks at different companies across the country. It just seemed like there needed to be a framework for making sure that we're all speaking the same language," said Chris Kelley, the CEO of KnowledgePay.
"We crowd-sourced this glossary, to some degree" said Kelley. "We tapped into the minds and experiences of several compensation professionals across the country to help us come up with list of terms and validated our definitions through several rounds of edits."
One of the aspects that make this glossary unique is in the layout and organization. While there is a traditional alphabetical listing, great effort was made to organize the terms in a way so that terms that had an affinity relationship with another were placed on the same page in a logical flow.
The glossary is available for download now, just in time for the start of salary survey season in most companies.
About KnowledgePay, Inc.
KnowledgePay provides compensation software and consulting services to organizations across the U.S. The software includes the most comprehensive collection of job analysis, documentation and evaluation tools available.