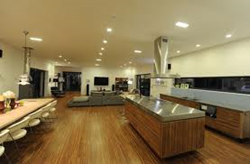 Dub Electric provide quick and efficient service at a great price. A pleasure to work with.
Fort Worth, TX (PRWEB) March 26, 2014
Dub Electric is now specializing in LED lighting installation for interior and exterior homes and buildings. New brands are now available that are low voltage lighting products sealed and waterproof in different color finishes. (Gold, Brass, Bronze, Brown, Green, Black). Up lights, bullet lights, tree lights, well lights, lanterns, path lights all on a digital timer.
One of our top installation projects are lighting design in kitchens installing under and over counter LED lighting that is dimmable. Including installing pendant lighting above bars and kitchen islands, reconditioning fluorescent lights with new electronic ballast and lamps
Saving on the utlity bill is also very important these days. Dub Electric is specializing in whole house energy controllers and main panel surge protection.
We offer a new brand of whole house surge protectors with a lifetime warranty and connected equipment replacement to protect everything electronic from utility surges or lighting strikes. Install whole house energy controllers which lowers utility costs by cleaning up the electromagnetic pollution in the electrical system, reducing lost and wasted power. This system not only slows down the meter it also increases inductive equipment life by reducing non-productive current. (Inductive equipment like: refrigeration, irrigation pumps, pool pumps, washing machines, dryers, and all types of electric motors.)
Recently, we have expanded our territory to Fort Worth, Irving, Lewisville, and Arlington, TX.
DUB Electric the one of the highest customer reviews ratings listed online.
No workplace injuries. 100% accident free
As one customer on the internet says, "We have received excellent electrical service from DUB Electric. The electrician was professional and works efficiently. I would highly recommend DUB Electric for your electrical needs.'
A few services that it offers are:

Panel Installations/Service Upgrades
Code Violations Corrected
Circuit Breakers
A/C Wiring
Fault Finding
Troubleshooting Shorts
GFCI Outlets
Ad Ons/Remodels
Chandeliers
Outlets/Switches/Fixtures
Smoke Detectors
Recess Lighting/Track Lighting
Motion Sensor Lighting
Emergency Lighting/Exit Signs
Landscape/Outdoor Lighting
Security Lighting
Under counter Lighting
Attic Lighting
UPS Generator Systems
Ballast Replacement
Whole House Surge Protection
Cable TV Wiring
Appliance Hookups/Wiring
Pools/Spas/Jacuzzi Wiring
Dimmers
Range/Dryer Receptacles
Exhaust Fans
Ceiling Fans
ttic Fans
Photocells
Motor Controls
Load Analysis
Home/Business Safety Inspections
After evaluating many such services and reviews from the satisfied customers of DUB Electric, it has been determined that they are one of the best licensed electricians for performing all types of electrical work.