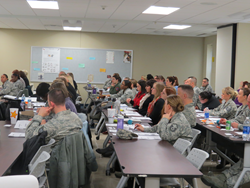 Very useful and informative training! Thanks for all your dedication and hard work for these survivors and this topic.
Springfield, Illinois (PRWEB) March 21, 2014
Health & Disability Advocates Veterans Programs will be hosting a workshop about military sexual trauma on April 4th in Springfield. This workshop is open to civilian and military professionals and no previous experience or prerequisite is necessary.
The Military Sexual Trauma Workshop is a daylong training for behavioral health practitioners, victim advocates, and social workers. The workshop will discuss military culture; practical approaches that anyone can use with survivors of trauma (like breathing techniques); the importance of positive first disclosures; and how military skills can enhance recovery. In short, military and civilian helping professionals will learn about how they can support, network resources, and advocate for men and women who survive military sexual assaults.
Presenters include sexual assault response coordinators, clinicians from local Vet Centers, directors from community service providers, and local rape crisis centers.
The cost of the workshop is $30 and scholarships are available upon request.
The workshop is approved to provide 6 CEUs for IL licensed clinicians and 5.5 CEUs for military victim advocates.
Register now at http://tinyurl.com/MSTApril4.
DATE: Fri., April 4, 2014
TIME: 8:30 am to 4:00 pm
PLACE: National Guard Amory in IMA building at 1301 N MacArthur Blvd., Springfield, Il 62702
COST: $30
SIGN UP: Online registration is available now at http://tinyurl.com/MSTApril4
About Health & Disability Advocates
Health & Disability Advocates plays an active, leadership role in creating information, distributing resources and building the capacity of communities and providers throughout Illinois to better meet the needs of Veterans, military service members, their families, and families of the fallen. HDA's programs improve health care access, educate the behavioral health community about the unique needs of military service members, and provide training and resources for military service members including finding and retaining employment. HDA receives and responds to multiple invitations to provide webinars and trainings to rape crisis centers, participate in panel discussions, and work with military partners across the state on collaborative trainings.