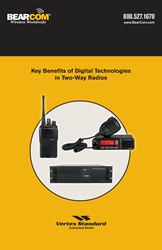 Digital technology is opening the door to a host of functions for two-way radios, even as it enhances capacity, coverage, audio quality, and battery life.
Dallas, TX (PRWEB) March 20, 2014
BearCom, a nationwide provider of wireless communications equipment and solutions, today announced the release of "Key Benefits of Digital Technologies in Two-Way Radios," a new guide for leaders of organizations upgrading to digital wireless communications equipment.
The publication, developed in cooperation with Vertex Standard, says, "Digital technology is opening the door to a host of functions for two-way radios, even as it enhances capacity, coverage, audio quality, and battery life."
Available as a free download from BearCom's website, the guide explains how digital radios offer improved audio quality, enhanced clarity throughout the coverage range, greater efficiency, and less battery drain compared to analog models. It explores the capabilities and benefits of the latest two-way radios, the differences between analog and digital technologies, and the process for making a smooth transition to digital.
"Organizations around the country are looking to harness the power of digital technology as they improve their communications capabilities," said BearCom President & CEO Jerry Denham. "This new guide features the eVerge line of digital two-way radios from Vertex Standard, which are precision engineered to deliver outstanding value and ease of use without sacrificing quality or affordability."
At the heart of the eVerge line is the EVX-530 Series, radios capable of operating in either analog or digital mode. The eVerge EVX-531 has an economical design that's easy to use, with 32 channels. The eVerge EVX-534 has 512 channels and a full display for greater flexibility. The eVerge EVX-539 has even greater functionality with nine programmable keys. The EVX-534 and EVX-539 offer text messaging, and their Auto-Range Transpond System enables users to monitor their connection statuses with other users by radio ID.
The digital eVerge line also includes the eight-channel eVerge EVX-5300 and the 512-channel eVerge EVX-5400 mobile two-way radios, as well as the eVerge EVX-R70 repeater, a dynamic mixed-mode unit that supports both analog and digital operation.
"Your choice of the EVX-531, EVX-534, and EVX-539 add sensible options to your two-way radio fleet with operating capabilities that can be converted from analog to digital operation," the guide reads. "That means you can take a phased migration approach by using your eVerge radio as an analog device now, and then with a simple programming change, switch to digital operation at any time in the future."
About BearCom
BearCom provides a broad line of high-performance wireless communications products, services, and complete mobility solutions. Founded in 1981, BearCom is America's only nationwide dealer of wireless communications equipment, serves customers from 26 branch offices located throughout the U.S., has several affiliated offices around the world, and employs approximately 400 people. BearCom is headquartered in the Dallas, Texas area. For more information, visit http://www.BearCom.com and http://www.TodaysWirelessWorld.com.
Vertex Standard is a trademark of Vertex Standard LMR, Inc. All other trademarks are the property of their respective owners. © 2014 Vertex Standard LMR, Inc. All rights reserved.