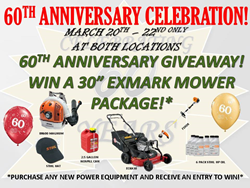 Chesterland, Ohio (PRWEB) March 20, 2014
Currently Marshall's has two stores located at 5151 Mayfield Road, Lyndhurst, and 7898 Mayfield Road, Chesterland. Both stores offer its customers quality outdoor power equipment, service department, and replacement parts. If you need assistance with transporting your equipment to their location, Marshall's offers pickup and delivery for a nominal fee.
Marshall Power's success stems mainly from their highly knowledgeable, dedicated, and loyal employees. The company has prided itself on building a strong positive reputation, and works very hard to build long lasting customer relationships. The sales and parts personnel are fully trained to answer your questions, demonstrate product, and execute the right tool for your specific needs. Their mechanics are master certified through manufacturer's training and years of experience to ensure that your equipment runs properly.
Marshall Power Equipment is one of the largest Stihl and Exmark dealers in northeast Ohio. They also carry other quality brands such as Gravely, Husqvarna, Toro, and Echo. The Marshall Power team stays busy all year long. In the spring, they specialize in lawn maintenance, fall brings leaf management, and winter they provide snow blowers.
Marshall's is kicking off the spring season with their annual open house sales event. Stop in March 20, 21, and 22 for the best deals of the year. The sales event hours are 8:00 a.m. until 5:00 p.m. on Thursday and Friday, and Saturday between 8:00 a.m. and 2:00 p.m. While you are at the sales event, don't forget to enter the drawing for exciting door prizes.
Looking forward to their next 60 years, Marshall continues to offer customers second-to-none service that's hard to find these days. If you want to shop at a locally owned small family business which they will appreciate you and treat you right, come to Marshall Power Equipment today.