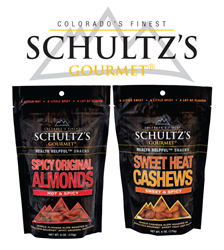 We are especially excited about our new partnership with Schultz's Gourmet and we are thrilled to be working with a local company that is growing their success on a national level." -Tony Ensor Sky Sox President and General Manager
Centennial, CO (PRWEB) March 20, 2014
Sedulous Foods Inc., maker of the Schultz's Gourmet® brand of cooking hot sauces, seasonings and snacks is delighted to announce a partnership with the Colorado Springs Sky Sox Baseball Team for the 2014 and 2015 seasons. Under this two-year comprehensive contract, Schultz's Gourmet will be designated as the "Official Gourmet Snack Nut of the Colorado Springs Sky Sox", beginning with the home opener on Friday, April 11th.
Schultz's Gourmet Spicy Cashews and Almonds will be available at Security Service Field Concessions, Suites and Clubhouse and their Cooking Hot Sauces will also be used in a variety of recipes at the stadium. The Schultz's Gourmet logo will appear on permanent signage under the outfield scoreboard and will be featured in the main scoreboard matrix display during the 7th inning stretch in each regular season home game. Additionally, Schultz's Gourmet will appear in a half-page color advertisement in Inside Pitch Magazine, the official game day magazine of Sky Sox Baseball. This publication is given to fans as they come through the gates and placed in the corporate suites at all regular season home games.
Tony Ensor, Sky Sox President and General Manager, said in a prepared statement, "Our corporate partners are a vital part of the Sky Sox family and their support allows us to provide the Colorado Springs community with exciting and affordable entertainment throughout the baseball season. We are especially excited about our new partnership with Schultz's Gourmet and we are thrilled to be working with a local company that is growing their success on a national level."
Mike Schultz, Founder and CEO of Sedulous Foods said, "We couldn't be more excited to partner with the Colorado Springs Sky Sox and continue to share our family's products with the Colorado Springs area. Our company was founded near Colorado Springs and partnering with the Sky Sox is great way to support the Southern Colorado community and increase exposure for our brand."
The Colorado Springs Sky Sox are the AAA top affiliate of the Colorado Rockies and was the 2011 Frietas Award winner for top Triple-A Organization of the Year courtesy of Baseball America. The Sky Sox are without a doubt one of the most recognizable brands in all of Southern Colorado. With over half the population of Colorado Springs coming through the gates in 2013 and more than 330,000 fans attending over 70 home games at Security Service Field, this partnership opens many opportunities for both brands.
For more information, product photos or an advance interview, please contact Sedulous Foods at press@sedulousfoods.com or 303-799-1229.
About Sedulous Foods (Schultz's Gourmet):
Sedulous Foods is a family run, family owned company that started in 2005 and are the makers of the Schultz's Gourmet® brand of Health Helpful™ products. Health Helpful™ is the company's promise to use all natural and gluten free ingredients and never preservatives, trans fats, MSG or high fructose corn syrup. Today, Schultz's Gourmet products can be found in more than 30 states at fine retailers like Whole Foods Markets, Sprouts Farmers Market, Costco Wholesale, Central Markets, Albertsons, Vitamin Cottage, Dorothy Lane Markets, Sports Authority Field at Mile High Stadium (Centerplate) and many more across the U.S.. Schultz's Gourmet Cooking Hot Sauces are available in 14oz, 33oz & 128oz bottles in two delicious flavors: Spicy Original and Sweet Heat. The Premium Seasoning & Rub is available in 5.75oz bottles, 17oz jars, and 4.25 gal pails. The Snack Almonds and Cashews are available in 6oz gusseted bags and soon in 1.75oz grab-and-go bags. Sedulous Foods was selected as a 2013 Finalist for the Colorado Company to Watch Program. For more information, please visit http://www.schultzsgourmet.com