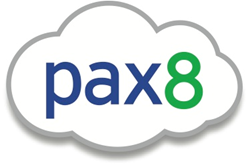 Lone Tree, Colo. (PRWEB) March 20, 2014
Pax8, a cloud commerce marketplace, today launched three cloud service bundles designed to help small and mid-sized businesses (SMBs) easily deploy comprehensive, enterprise-strength cloud services for online security and data management.
The new bundles, which are available today through Pax8 and its network of IT Channel Partners, can help SMBs choose from the wide range of available services in the market.
"Most SMBs know the importance of protecting their users and networks from malware and securing their mission-critical data from loss and theft," said John Street, Pax8 CEO. "However, the market has become flooded with so many options that it can be a daunting task to evaluate and implement technologies, especially when they come from different vendors."
To create the cloud service bundles, Pax8 first evaluated the technologies to ensure best-of-breed quality and performance for its customers. The services were then packaged to help SMBs easily address their online security and data management concerns through a combination of products provided by multiple vendors.
"SMBs and their Channel Partners look to us for advanced cloud technologies, and they also want the whole deployment process, from ordering through provisioning and setup, to be quick and simple. With the new service bundles, they are able to rapidly put comprehensive solutions to work for their businesses, with all of the convenience of purchasing integrated, multi-vendor services from a single source," said Street.
The new Pax8 cloud service bundles include:
Pax8 Security Bundle:

Symantec Email & Web Safeguard.cloud
Symantec Endpoint Protection.cloud
Pax8 Data Protection Bundle:

Symantec Enterprise Vault.cloud
Symantec Email Encryption.cloud
Infrascale FileLocker Secure Collaboration
Pax8 Protected Cloud Bundle:

Symantec Email & Web Safeguard.cloud
Symantec Endpoint Protection.cloud
Symantec Email Encryption.cloud
Infrascale FileLocker Secure Collaboration
In addition to the launch of its cloud security and data management service bundles, Pax8 also published the latest white paper in its "Cloud Revolution" series. The white paper, "Understanding and Controlling Security Risks in the Cloud", takes a comprehensive look at the security concerns SMBs face as their adoption of cloud services increases. The paper, which is available following registration at http://www.pax8.com, provides an overview of cloud computing, and outlines the emerging risks in cloud computing and the steps necessary to combat them.
Pax8 continues its focus on cloud security for SMBs with a webinar, "Evolving Threats for SMBs", to be held at 12 Noon Mountain Time on Tuesday, March 25. The webinar will feature Pax8 sales engineer Trevor Vernon, who has over a decade of experience helping SMBs to deploy cloud security solutions. Register for the event at http://www.pax8.com.
About Pax8
Pax8 is a cloud commerce marketplace focused on the delivery of cloud-based solutions to a global network of channel partners and their customers. Pax8 is leading the transformation of its partners' businesses to becoming cloud-centric by efficiently delivering aggregated cloud services through its proprietary marketplace technology platform, the Pax8 Command Console, and accelerating new client growth through its proven, collaborative customer acquisition programs. The comprehensive Pax8 approach is built specifically to help partners adapt their businesses to meet the unique demands of cloud sales and support. Learn more at http://www.pax8.com.
Pax8 Contact
Steve McCutcheon, CMO
Email: smccutcheon(at)pax8(dot)com
Phone: (719) 331-0033
Twitter: @SNMcCutcheon