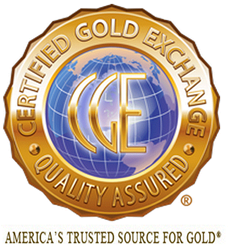 Certified Gold Exchange clients have stepped up to help their families, friends and colleagues who have watched U.S. retirement accounts lose $2 trillion in the last three years.
FORT WORTH (PRWEB) May 13, 2014
The Certified Gold Exchange has announced that its Free Gold IRA campaign will be extended through Friday, July 5, 2014 and company spokesperson Janet Jones says the deadline was extended because of high client referral volumes. Jones says Certified Gold Exchange has experienced a notable rise in retirement account transactions since it announced earlier this year it would cover first-year gold IRA fees for new clients, and the company's referral program has motivated some clients to spread the news about CGE.
"Clients who refer others to us receive complimentary American Eagle silver coins from us for each referral that becomes a CGE client," said Jones. "We've always gotten a steady number of referrals but since the Free Gold IRA promotion started our current clients have really stepped up to help out their families, friends and colleagues who have watched their retirement accounts suffer for too long."
U.S. investors with self-directed IRAs and/or qualified 401(k)/403(b)/457/TSP accounts have the option of buying physical gold and silver with those monies. Precious metals, just like cash, must be held by a custodian until the investor is ready to start withdrawing from the account. At that time the investor may sell the gold or take physical delivery of his or her metals. Gold IRA custodians charge varying amounts, and the Certified Gold Exchange works with all major Gold IRA custodians to reimburse clients for Precious Metal IRA first-year fees when the client purchases at least $50,000 in IRA precious metals through the Certified Gold Exchange.
Certified Gold Exchange, Inc. is one of North America's premier precious metals trading platforms, providing unparalleled service to licensed dealers, institutions, and household investors since 1992. Certified Gold Exchange maintains an A+, Zero Complaint Better Business Bureau rating. For more information or a free "Gold Investor's Guide," visit http://www.certifiedgoldexchange.com or call 1-800-300-0715 today.