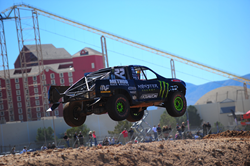 Dana Point, Calif. (PRWEB) March 20, 2014
Media Notes:

Media check-in will be located outside front gate
Media ride-alongs will be available 9:00-10:00 a.m both days on a first-come, first-served basis
For media credentials, register at https://torc.webconnex.com/mediaregistration
TORC: The Off-Road Championship presented by AMSOIL, the nation's premiere short-course, off-road racing series, will kick off its 2014 season with an exciting two-day "Duel in the Desert" Apr. 5-6 at Primm Valley Off-Road Raceway in Primm, Nev. TORC action runs the gamut of off road competition including three classes of PRO trucks, making up to 900-hp, for two full days of non-stop, high-speed racing.
"Fans can expect to see TORC trucks jump over 200 feet in the air, side by side at speeds close to 100 mph," said TORC President BJ Birtwell. "We've made some exciting improvements to the track which are sure to set up some memorable racing as drivers look to get an early edge in their quest to win a TORC National Championship."
Coming off first-place rankings in 2013 and attempting to stay atop the pack going into the 2014 season are Johnny Greaves from Abrams, Wisc., in PRO 4X4 driving the #22 Monster Energy Toyota PRO 4 and Keegan Kincaid from Crandon, Wisc., in PRO Light driving the #7 Traxxas vehicle. A highlight of PRO 2 will be the return of Arie Luyendyk Jr. in the #25 Gunk Aero Motorsports truck. The former star of the popular TV series "The Bachelor" brings to the track his experience in Indianapolis 500, Indy Light, 24 Hours of Daytona and 12 Hours of Sebring racing.
The daily schedule for the TORC "Duel in the Desert" will be the following:
10:00 a.m. Gates Open
10:15 a.m. Qualifying: All PRO Classes (Saturday only)
12:15 p.m. TORC Kart Race (Junior and 450 Classes)
12:45 p.m. UTV P1K Race
1:10 p.m. FORE Powder Puff Race
1:30 p.m. Text to Win a Ride-Along Entry Period (ends 3:00 p.m.)
2:00 p.m. Opening Ceremonies, National Anthem
2:15 p.m. PRO Light Race
3:00 p.m. PRO 2WD Race
3:00 p.m. Truck Show Judging (ends 4:30 p.m.)
3:20 p.m. Two-Seater Ride-Alongs
3:20 p.m. Pit Walk, Autograph Session, Sponsor Activities (ends 4:30 p.m.)
4:30 p.m. PRO 4 Race
5:00 p.m. Racing Ends, Podium Awards
A special highlight of both days at Primm will be a Powder Puff Race, featuring an all-female line-up of drivers, in partnership with Family Off-Road Enthusiasts (FORE) to help support women facing breast cancer and "Michelle's Place," a Temecula, Calif.-based non-profit organization that provides services to women through all phases of breast cancer from detection and diagnosis to treatment and recovery.
General admission for this season opener is free, with $65 VIP packages available that include trackside seating, a t-shirt, hat, food and beverages.
Primm Valley Off-Road Raceway is located behind Buffalo Bill's Resort & Casino at 31700 Las Vegas Blvd., Primm, NV, 89019.
The two days of TORC "Duel in the Desert" racing will also be streamed live on the Motor Trend YouTube channel (http://www.youtube.com/motortrend) and broadcast on NBC Sports on April 25.
The remainder of the 2014 TORC season includes:
April 25-26: Charlotte, NC (Charlotte Motor Speedway)
May 17-18: St. Louis, MO (Gateway Motorsports Park)
June 28-29: Crandon, WI (Crandon Internationall Off-Road Raceway)
July 19-20: Bark River, MI (Bark River International Raceway)
Aug 5-6: Sturgis, SD (Buffalo Chip Powersports Complex)
Aug 30-31: Crandon, WI (Crandon Internationall Off Road Raceway)
For more information on TORC: The Off-Road Championship including NBC Sports episode premiere dates, visit http://www.torcseries.com or find TORC on Facebook at http://www.facebook.com/torc and Twitter @TorcOffRoad.
###
About TORC: The Off Road Championship
TORC: The Off-Road Championship is the nation's premiere short-course, off-road truck racing series. Known as a collision between action sports and motorsports, TORC is the ultimate battleground for 900-horsepower race trucks competing to win the prestigious TORC National Championship. Fans from all over the world enjoy TORC through high-energy events as well as the TV broadcasts on NBC Sports. For series partnership information or racer inquiries, email info(at)torcseries(dot)com or visit http://www.torcseries.com.