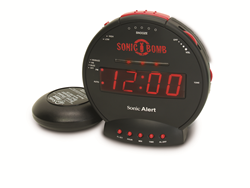 Wednesday, March 19, 2014, Troy MI (PRWEB) March 21, 2014
The Version Three SBB500ss Sonic Bomb offers numerous new features including a Dual Alarm and a five-level dimmer for the display. The dual alarm is perfect for multiple sleepers with different schedules, and both can be set to use the clock's 113 decibel extra-loud alarm and the Super Shaker Bed Vibrator with strength control, ideal for those who need a little something extra to get out of bed. The Sonic Bomb alarm volume and tone are both adjustable. Built-in red flashing alert lights complete the sensory overload of sight, sound and feel.
Additionally, the V3 Sonic Bomb offers user-selectable functions including snooze time from 1-30 minutes, and alarm duration from 1-59 minutes. An easy test mode is available for alarm and bed shaker any time to ensure the clock is functioning according to user preferences. This is a simple convenience that allows the user to check the settings without having to "set and wait".
The Sonic Bomb V3 features improved battery backup that maintains time and alarm settings up to one week; new green power technology that requires 60% less energy; dual time (12 and 24 hour) formats; and dual power (with adapter) for international use. A one-year warranty is standard with all Sonic Alert alarm clocks which are designed to provide years of use, offering peace of mind for those who are hard of hearing or simply hard to wake.
For more information, contact Sonic Alert 1050 East Maple, Troy, MI 48083. Phone 248-577-5400, Fax 248-577-5433, or visit http://www.sonicalert.com. Sonic Alert provides products to improve the lives of the hard-to-wake, elderly and the hard of hearing. They are committed to continually producing new and innovative products that fill their customers' needs.