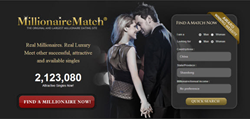 Los Angeles California (PRWEB) March 22, 2014
MillionaireMatch.com, the largest dating website that assists millionaires to find love and happiness, has today announced the results of a survey it carried out on its members on March 19 which surveyed all its female membership with regards to their own views about their physical appearance to see if female members on MillionaireMatch.com are more confident about their physical appearance.
65.26 percent of the female members think they are either good looking or very good looking and are extremely confident women. Only 0.25 percent do not think they are beautiful.
MillionaireMatch.com offers a range of choices for its members to select their physical appearance in their members profile area such as, 'Very Good Looking', 'Good Looking', 'Average', 'Below Average', and 'You Decide', etc. 26.8 percent of females chose 'Very Good Looking', 38.46 percent selected 'Good Looking', whilst 11.91 percent think they are average looking and 0.25 percent say they are below average. 22.58 percent of the female membership believe it should be their match who decides whether they are beautiful or not.
Why do many female members on MillionaireMatch.com think they are beautiful? It could be that they view their level of entrepreneurship success as beauty. As the majority of the female membership is independent, successful and smart, their confidence certainly exudes, which results in having a greater influence on their outer appearance. As they know how to be attractive and elegant, that may be the main reason why most of them are confident enough with their physical appearance.
About MillionaireMatch.com
MillionaireMatch.com is an online millionaire dating site which has been bringing together successful singles for over twelve years. It was voted as the "Best of the Web" by Forbes.com. There are many successful persons here include CEOs, pro athletes, doctors, lawyers, investors, entrepreneurs, beauty queens, fitness models and Hollywood celebrities, just to name a few.