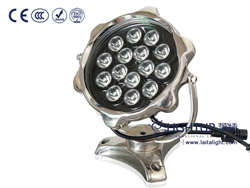 (PRWEB) March 20, 2014
LIGHTUP LED is devoted to providing the customers worldwide with the brightest and highest quality LED lights on the market. Yesterday, the CEO of the company introduced their hot-sale RGB intelligent LED underwater light.
The popular RGB intelligent LED underwater light is made with high-quality stainless steel housing, stainless steel panels, silicone seals, and 8-10mm tempered glass mirror, which can ensure a good lighting effect for users. It offers the finest lighting solution for all types of swimming pools, fountains, water curtain lamp lighting facilities and more. With the latest proprietary LED technology, LIGHTUP LED is sure to have a solution for any customer's lighting application.
"Our exclusive LED underwater lights offer the customers the convenience of a single combined light unit that comes with a lot of unique color combinations. LIGHTUP LED is the industry leader in LED technology. We believe our clients are smart enough and will not be fooled by imitations." The CEO says.
LIGHTUP LED's engineering team is very famous within the LED industry, and the company has been at the forefront of the high-intensity LED revolution for over 10 years. On the company's official website, people can find its high power LED underwater light collection easily. Moreover, all the LED products are with new discounted rates now. All the clients can get a discount when they place orders in March.
About LIGHTUP LED
With over 8 years' experience in the LED industry, LIGHTUP LED (Zhongshan Guzhen LIGHTUP International Technology Co., Ltd.) is a specialized manufacturer and retailer of high-end LED lights. The company is located in Guzhen, the "Silicon Valley" of China's LED industry. They focus on the R&D and manufacturing all types of LED lights. Great product quality, premium customer service and competitive pricing are the reasons for many customers worldwide to choose LIGHTUP LED.
For more information about LIGHTUP LED and its LED underwater lights, please visit: http://www.laitalight.com/Products/led-underwater-light.html