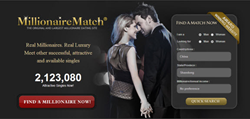 Los Angeles (PRWEB) March 23, 2014
Just when people thought they had read it all about the Oscars, here's the latest and greatest news. Ballots have been cast and the votes have been counted. Members of the widely acclaimed MillionaireMatch.com selected the best-dressed star on the 2014 Oscar's Red Carpet.
Drum roll please.
Twelve Years a Slave's Lupita Nyong'o is the winner. And here are the top three vote getters:
1. Lupita Nyong'o got 36.32% of the votes. She wore a powder blue Prada dress, which made her look elegant and exquisite. "She is glorious," said one of the millionaire members of MillionaireMatch.com. "Her gold and diamond headband makes her look like goddess."
2. Naomi Watts received 32.41% of the votes. She dressed in a white cab-sleeve Calvin Klein Collection gown and Bulgari jewels. "I thought Naomi looked fantastic when she walked out on the stage also. Effortlessly classic, simple lines," said another MillionaireMatch.com member.
3. Amy Adams received 29.35% of the votes. She wore a navy blue column dress by Gucci with a lapel-like, fold-over at the strapless part. Her dress fit impeccably.
MillionaireMatch.com has been bringing together successful singles for over 13 years. Voted "Best of the Web" by Forbes.com. "MillionaireMatch.com highlights the millionaires in its listings," reported the Wall Street Journal.
This is the largest and most effective site in the world to connect with, date and marry successful and attractive people. Members include CEOs, pro athletes, doctors, lawyers, investors, entrepreneurs, beauty queens, fitness models and Hollywood celebrities, just to name a few.