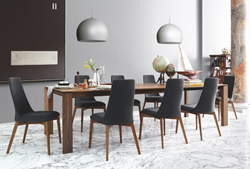 Modern dining room tables & chairs on Sale at Los Angeles contemporary Italian furniture showroom.
Los Angeles, CA (PRWEB) March 20, 2014
In celebration of spring and a redesigned LA showroom, Pomp Home | Modern Furniture Los Angeles is announcing up to 30% off Sale on Calligaris quick ship dining room furniture and Italian special orders from March 20th to April 7th. Pomp Home is located right next to downtown Culver City at their 3806 Main Street, Los Angeles location.
This dining room furniture Los Angeles sale is also to launch the newly expanded North American Calligaris quick ship catalogue. Renowned worldwide, Calligaris has earned a sterling reputation as makers of fine Italian contemporary furniture and modern accessories for the living room, dining room, kitchen and bedroom.
The staff at Pomp Home is experienced & knowledgeable on the latest interior design styles and carries a superb collection of contemporary home decors designed to fit modern living comforts. Because of the large variety of modern furniture designs at the 5000 square foot showroom, interior designers, modern design enthusiasts, and architects use Pomp Home as their primary design source.
Guests who visit the furniture store in Los Angeles can take advantage of Pomp Home's contemporary furniture displays can see for themselves the comfort level of Calligaris modern Italian designs and the quality material craftsmanship that's made this designer furniture line a favorite choice for customers who appreciate durability and designs that never go out of style.
During the sale from March 20 to April 7, customers will find exceptional savings on Calligaris dining tables and chairs, buffets and wall cabinets. The designer furnishings in the Calligaris line can be mixed and matched to make any room a unique reflection of the owner's personal style.
The beautifully designed Italian modern furniture offered by Calligaris, which has been in business since 1923, only became internationally available in 1998 when it branched into the US. Since then, the company has launched stores around the world, including their flagship store in Milan and their newest showroom of contemporary furniture in Paris. Their reputation for safeguarding the environment by instituting policies for responsible management of raw material that includes waste recycling and scrap reduction has made Calligaris a favorite choice for eco-minded consumers.
Pomp Home is also the official Los Angeles showroom for Italy's JESSE line of designer furniture. In addition to their wide variety of quality modern Italian furniture and accessories, Pomp Home also offers consultations and components for custom walk-in closets, wardrobes, and media and wall systems as well as bedroom furniture.
For more information about Pomp Home's Calligaris modern furniture showroom and Spring Dining Room Sale running from March 20 to April 7, contact Warren Doke at (310) 287-9944, visit their website at pomphome.com, contact them through their e-mail address at pomphome(at)aol(dot)com, or visit their Facebook page to see their latest selections of fine contemporary furniture in Los Angeles.