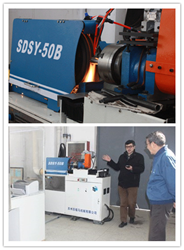 Zhengzhou, China (PRWEB) March 20, 2014
iAbrasive, a leading abrasives and diamond tools online trading platform, today announces the company manager Lei, together with the Secretary Wang from China Coated Abrasives Association, has paid a visit to the laboratory located in Material Science and Engineering Institute, Henan University of Technology, where SDSY-50B CNC Sanding Belt Grinding Machine has been displayed and tested.
According to iAbrasive's introduction, the original proposal of developing CNC Sanding Belt Grinding Machine is raised by China Coated Abrasives Association. During the research & development, many technical problems have been overcome successfully. Until now, the machine have been proven secure and stable enough and can be sold in a broad range.
"The tester had made its first appearance in the Second China International Abrasives & Grinding Exposition held in November 2013, which received lots of valuable advices and suggestions from visitors. Later, researchers made some improvements accordingly and successively equipped the machine with air compressor and ventilation facilities," introduced by Lei, who have watched the testing personally.
The tester has collected a group of experimental data by repeatedly testing machine's grinding pressure, feeding speed, linear velocity of the belt, RMP, etc, which will finally be the reference index of SDSY-50B when in application. Compared with traditional ones, SDSY-50B has taken material's texture, hardness and cooling into consideration. Once being put into practical uses, it will greatly improve grinding efficiency and reduce labor intensity.
iAbrasive shows following-up news about SDSY-50B will be updated at: http://www.iabrasive.com. As a representative new force in abrasives industry, iAbrasive provides global buyers of abrasives and diamond tools with an authentic and open platform, where deals can be concluded securely. For more supplying and purchasing information, you are available at: http://www.iabrasive.com.
About iAbrasive
Founded in 2012, and headquartered in Zhengzhou, China, iAbrasive has achieved dramatic growth in benefiting overseas abrasives buyers communicating with Chinese suppliers at anytime and anywhere. Positioning itself on the whole abrasives industry only, iAbrasive strives to be most professional abrasives trading platform and supply the best abrasives products for you.