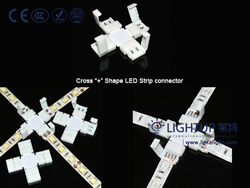 (PRWEB) March 24, 2014
Recently, LIGHTUP LED has released its LED strip connectors, and announced great discounts on these items. The connectors are used to avoid the need to solder wires directly to the strips.
"Our connectors have a premium quality, innovative clip style design and are suitable for all LED strips in both 8mm, 10mm and 10mm wide formats. The LED strip connectors incorporate a positive grip system within the clip mechanism," the sales manager of the company says.
The 5050 LED strip connector and 3528 LED strip connector from this company are popular on the market. Acocorindg to the an engineer of the company, the 5050 LED strip connector is designed to clip onto the end of the single color small diode strip to allow it to connect with a 12V power supply. The strip light can be 8/10/12mm wide to use this connector.
"On our website, you can find everything you need for strip lighting - changeable RGB or single color LED strips. We have all our products in stock, and most of them are ready for dispatch within one business day from our warehouse. All our products are of premium quality and come with one year warranty at least," the manager adds.
About LIGHTUP LED
With over 8 years' experience in the industry, LIGHTUP LED (Zhongshan Guzhen LIGHTUP International Technology Co., Ltd.) is a professional manufacturer and retailer of high-end LED lights. The company is located in Guzhen, the "Silicon Valley" of China's LED industry. They focus on the R&D and manufacturing all types of lights. Great product quality, premium customer service and competitive prices are the reasons for many customers worldwide to choose this company.
For more details about this company and its strip connectors, please visit: http://www.laitalight.com/Products/led-strip-connector.html.