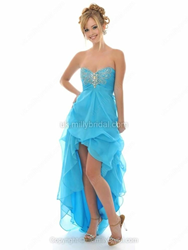 (PRWEB) March 20, 2014
With spring just around the corner, Millybridal has released an incredibly pretty selection of UK prom gowns today. The new 2014 prom dresses collection includes an array of delicate antique tones such as dove gray, soft peach and girlyblushing. Incredibly feminine and romantic designs with a wide variety of flattering necklines and silhouettes. With hundreds of 2014 prom dresses come online, Millybridal is the best place to find trendy prom gowns at affordable prices.
"As the moon is the spotlight amongst the many stars in the night sky, so is the female's body when reflected within layers of lace and silk. One of our masterpiece is inspired by the 1950's classic styles worn by Audrey Hepburn, it has layers of silk chiffon over soft pink tulle," the chief designer Helen said. "Take a quick browse through this prom dresses UK collection, you will find a few dresses are decorated with unique elements. The detailing is amazing, revealing more only upon closer inspection: unexpected sheer inserts, asymmetrically draped peplums and structural accents."
The newly released prom dresses collection are with exquisite detailing — plunging necklines, statement backs, detailed hand-produced beadwork and breathtaking trains. It goes without saying that the pieces are perfect for your prom in this spring.
About Millybridal
Began in June 2008, Millybridal was founded with the idea - fashion is a right not a luxury. Nowadays, Millybridal is proven to be a reliable e-commerce platform that deliver trendy yet cheap prom dresses for young girls. From our wide range of products, teenagers should be able to find the just-right dresses that best fit their unique styles. We post helpful and handy fashion tips on our regularly updated blog often, where you may know how to achieve trendy celebrity looks.