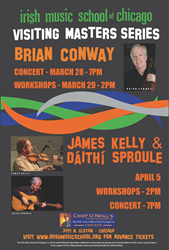 Chicago, IL (PRWEB) March 20, 2014
For the Irish Music School of Chicago, great traditional Irish music does not end with St. Patrick's Day. As part of its mission to keep Irish arts alive in Chicagoland year-round, the Irish Music School of Chicago presents Brian Conway, James Kelly and Dáithí Sproule performing in concert and teaching musician workshops as part of its Visiting Masters Concert Series at Chief O'Neill's Restaurant and Pub.
New York born fiddler Brian Conway will perform in concert on March 28 at 7pm and teach workshops beginning at 1:30pm on March 29. Conway is a leading exponent of the highly ornamented Sligo fiddling style made famous by the late Michael Coleman. A premier Irish-American fiddler, he performs with a skill, grace and force that are steeped in tradition but distinctively his own. Well known in the Irish/Celtic community, Conway has won numerous All-Ireland fiddling competitions, and has been called one of the best fiddlers of his generation. Conway is also a noted instructor who has mentored many fine fiddle players, including several who have gone on to win All-Ireland championships.
James Kelly and Dáithí Sproule will teach workshops beginning at 3pm and perform in concert at 7pm on April 5. Kelly, a native of Ireland, is one of the greatest Irish traditional fiddlers alive today. He has appeared several times with the Grammy award winning Irish group, "The Chieftains", and on Garrison Keillor's national radio show, "A Prairie Home Companion." He received the prestigious "Florida Folk Heritage Award" as well as the 2006 TG4 Irish traditional musician of the year in recognition of his outstanding musicianship and contributions to Irish music (TG4 is Ireland's Irish-language TV station). He has 18 albums to his credit.
Dáithí Sproule of Derry, whose first group was the legendary Skara Brae, is one of Irish music's most respected guitar accompanists. He is one of the first guitarists to develop DADGAD tuning for Irish music and is also a fine singer in English and Irish. Dáithí has performed and recorded with two highly influential traditional music trios: Bowhand (with James Kelly and Paddy O'Brien) and Trian (with Liz Carroll and Billy McComiskey). Dáithí is a sought-after teacher and lecturer in subjects ranging from guitar styles and song accompaniment to Irish traditional music, language and literature.
For more information and to purchase tickets, visit http://www.irishmusicschool.org, email info(at)irishmusicschool(dot)org or call (773) 412-5082. Chief O'Neill's Restaurant and Pub is located at 3471 N. Elston Ave., Chicago, IL 60618. Travel support for the Visiting Masters Series is generously provided by United Airlines.
About the Irish Music School of Chicago
The Irish Music School of Chicago is a leader in teaching traditional Irish music to students of all ages by utilizing the traditional methods of teaching by ear and telling the stories behind the tunes, and the significance of being part of a living musical community. As a not-for-profit organization, the Irish Music School is committed to maintaining the strong tradition of Irish music, song and dance, to involve more people in the community of Irish music, and ensure that this type of music does not disappear in Chicago and the United States.