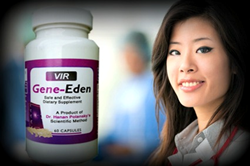 People with shingles are more likely to suffer a recurrence than previously thought (1). - WebMD
Rochester, NY (PRWEB) March 23, 2014
Individuals that have had an outbreak of Shingles (herpes zoster), a condition caused by the varicella zoster virus, often fear that they could have another outbreak. That fear is justified. polyDNA's March 2014 survey found that up to 78% of respondents did not know that "People with shingles are more likely to suffer a recurrence than previously thought, especially if their attack is accompanied by lasting pain." (See WebMD, from November 9, 2009) (1). polyDNA recommends Gene-Eden-VIR to those infected with the latent VZV. Gene-Eden-VIR is a natural antiviral designed to help the immune system target latent viruses.
Dr. Yawn, M.D. said "The risk of getting shingles again, once you already have it, is about one in three. That's about the same chance of getting shingles once in your lifetime (1)." Researchers "studied the medical records of nearly 1,700 people with a confirmed shingles attack from 1996 to 2001. Only 8% had compromised immune systems (1)." Clearly most recurrent attacks are occurring in people with healthy immune systems.
"The time between attacks ranged from 96 days to 10 years. Recurrences were: 2.8 times more likely in people with shingles-associated pain for 30 or more days during the initial episode. 4.8 times more likely in people with shingles-associated pain for 60 or more days during the initial episode, 60% more likely in women than men, (and) 40% more likely in people who were 50 or older when they had their initial attack (1)."
Dr. Aaron Glatt, M.D. said "We knew you could get another episode, but we didn't know the risk was so great (1)."
polyDNA recommends that individuals concerned about a shingles outbreak speak with their doctors about Gene-Eden-VIR. This natural antiviral was proven to reduce viral symptoms in a post-marketing clinical study that followed FDA guidelines.
In a post marketing clinical study published on August 12, 2013 in the medical journal Pharmacology & Pharmacy in a special edition on Advances in Antiviral Drugs, researchers showed that Gene-Eden-VIR is safe and effective (2). Additionally, up to 70% of those studied reported a decrease in viral symptoms, and users experienced an increase in overall health (2).
Each ingredient of Gene-Eden-VIR was chosen through a scientific approach. Scientists scanned thousands of scientific and medical papers published in various medical and scientific journals around the world to identify the safest, most effective natural ingredients that target latent viruses. (2)
To learn more about Gene-Eden-VIR, visit: http://gene-eden-kill-virus.com/. All orders of Gene-Eden-VIR are completely confidential, and no information is shared or sold to any third party. Privacy is assured.
Reference:
(1) Shingles Recurs More Often Than Thought. Published November 9, 2009.
http://www.webmd.com/skin-problems-and-treatments/shingles/news/20091102/shingles-recurs-more-often-than-thought
(2) Gene-Eden-VIR Is Antiviral: Results of a Post Marketing Clinical Study. Published on August 12, 2013.
http://gene-eden-kill-virus.com/PP_Gene-Eden-VIR-is-Antiviral.pdf
polyDNA is a biotechnology company that develops dietary supplements using the unique scientific method developed by Dr. Hanan Polansky, which is based on Computer Intuition.
In addition to his unique scientific method, Dr. Polansky published the highly acclaimed scientific discovery, called Microcompetition with Foreign DNA. The discovery explains how foreign DNA fragments, and specifically, DNA of latent viruses, cause most major diseases.
polyDNA developed Gene-Eden-VIR , an antiviral natural remedy that helps the immune system kill latent viruses.