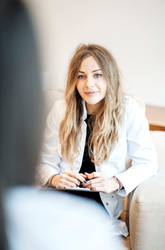 Members will be the first to know about new treatments and procedures and can expect favourable introductory offers and invitations to exclusive events too
London (PRWEB UK) 20 March 2014
Based in the Belgravia/Knightsbridge area of London, ClinicBe takes a uniquely holistic approach to skin treatment which integrates skin-related issues within wider parameters of healthcare.
Their novel approach has been well-received and the clinic has quickly built up a loyal database of patients who visit regularly to maintain the benefit of their skin treatments.
Now ClinicBe has developed a special Membership Scheme to reward the loyalty of its most important clientele. Members of the Membership Scheme will receive access to exclusive offers at ClinicBe as well as discounts with a range of companies specially selected and vetted by Dr Kubicka.
Membership Scheme members can access a password-protected area of the website which will have the latest information on offers for its members as well as additional content from a variety of providers.
Dr Barbara Kubicka MD, CIME/ICAM, MBCAM explains:
"We are very appreciative of the loyalty that our patients have shown us and understand that many return time after time for skin treatments, which is an excellent sign that they are happy with the service and the results that we provide."
"Now we are returning that loyalty with the introduction of our Membership Scheme, designed to reward our most valued clientele with a series of rewards and offers as well as regular skin and health consultations."
"In addition, members will be the first to know about new treatments and procedures and can expect favourable introductory offers and invitations to exclusive events too."
For an annual registration fee of £100, members receive a 3 monthly consultation to help them take care of their skin and body, adjusting diet, lifestyle and treatments as the seasons change. Members also receive a 10% discount on procedures at ClinicBe and a 25% introductory discount to enable them to try new treatments at a preferential rate for the first 3 months after launch.
The loyalty club discounts and offers are constantly being updated. At the moment, those in the Membership Scheme can receive a complimentary high quality, high SPF sunscreen or free medical facial depending on the amount spent.
In addition to extra value at ClinicBe, members can access special offers with their network of partners, including Eatneon healthy cookery lessons and delivery service and Amouage luxury fragrances. Previous offers have included a complimentary appointment with a personal stylist.
Dr Barbara Kubicka works closely with a network of associated healthcare professionals both inside and outside the clinic in order to give patients in the Membership Scheme access to a host of expertise and treatment options.
Dr Kubicka MD, CIME/ICAM, MBCAM is a fully qualified doctor, registered with the GMC and with additional qualifications in aesthetic treatments from the world-renowned College de International de Medicine Esthetique in Paris.
She founded clinicbe to offer a new holistic approach to skincare treatments; treating the patient as a whole in order to get the best possible results from any treatments they may have, so that nutrition, hydration and lifestyle are considered as part of any treatment programme. Popular treatments include wrinkle-relaxing injections and facial fillers as well as specialising in mesotherapy and dermaroller. The progressive company also invest in the latest technology and in 2013 introduced I-Lipo for body shaping and toning as well as IPL laser for treating a range of skin conditions.
clinicbe® is conveniently situated on the border of Belgravia/Knightsbridge and is popular with those that live and work in the West London area, including Chelsea, Kensington and Mayfair although patients travel from across the UK and even overseas to visit Dr Kubicka.
For further information or to arrange a confidential consultation, please contact us.