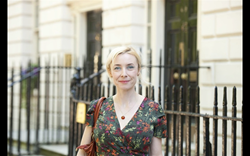 London, U.K (PRWEB UK) 21 March 2014
Dr Catherine Brown, Convenor & Senior Lecturer for the English BA at New College of the Humanities, has been appointed Vice President of the DH Lawrence Society.
Dr Brown will make her debut as Vice President by giving the annual DH Lawrence Birthday Lecture on 11th September at this year's DH Lawrence Festival in Nottingham.
Delighted at the appointment, Dr Brown said: "It's no secret I'm a fan of DH Lawrence. I very much enjoy teaching his works at NCH. I'm honoured to have been elected Vice President of the DH Lawrence Society. I look forward to making further contact with other people who care about DH Lawrence - in order learn from them, discuss with them, and collaborate with them in the task of reviving his reputation and making his works more widely known".
She is already a consulting editor of the Journal of the DH Lawrence Society, which involves reviewing submissions and offering advice on general editorial policy for the Journal.
Dr Brown teaches English BA modules alongside Dr Charlotte Grant and Dr Daniel Swift, both Senior Lecturers, and Visiting Professors Sir Christopher Ricks, Howard Jacobson, Sir Trevor Nunn in the English faculty at New College of the Humanities in London.
Ends
For further information, email the NCH team at press.office(at)nchum(dot)org or call +44 (0)2072911385.
Notes to Editors:
About NCH
NCH combines the best of the broader US liberal arts tradition with the depth of a single honours undergraduate degree taught through high-intensity, one-to-one and small group teaching.
Students are prepared for a University of London undergraduate degree in Economics BSc, English BA, History BA, Philosophy BA or Politics & International Relations BSc combined with eight complementary modules covering subjects including Applied Ethics, Logic & Critical Thinking, Science Literacy, and professional development.
The College's rolling applications process is independent of UCAS and applications can be made in addition to the five UCAS choices, and can still be made for entry in 2014. Visit http://www.NCHum.org for all enquiries and applications.
About Dr Catherine Brown
Dr Catherine Brown studied English Literature under the poet and academic J H Prynne at Gonville and Caius College, Cambridge, then moved into academic and practical politics before returning to Gonville and Caius for her PhD as an English-Russian comparatist. She has taught at the universities of Cambridge and Greenwich and joined NCH from St Catherine's College, Oxford.
Her primary specialism is the novel from 1870 to 1930, and her study has focused on the works of D.H. Lawrence and George Eliot. She is also interested in the British novel of the last thirty years, 20th century drama and Anglophone Nigerian and Caribbean Literature.
Dr Brown is the author of a monograph titled The Art of Comparison: How Novels and Critics Compare, and she is currently working on a monograph on representations of torture in nineteenth and twentieth century literature, as considered from the points of view of ethics, genre, and reader response.