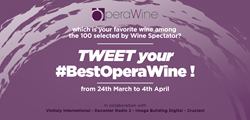 This is part of our broader strategy to engage young people, by positioning wine drinking as young, modern and fashionable
Verona, Italy (PRWEB) March 20, 2014
In preparation for third edition of Opera Wine, Saturday April 5th at the Palazzo della Gran Guardia in the center of Verona, Vinitaly International announces two initiatives aimed at engaging young consumers. The first is a nod to this year's "red carpet" theme, La Grande Bellezza of Opera Wine 2014; as guests arrive they will be greeted by and photographed with the first-ever appointed "Mr. and Miss Vinitaly International".
Chosen as this year's Miss Vinitaly International is Alessandra Scarci, a 19-year-old from Milan with a background in theater, opera, and dance, and a passion for languages. Her Mr. Vinitaly International will be Andrea Amadei, who has channeled his interest in food and wine through tv and other many different showcases such as the famous Italian cooking show "La prova del cuoco". Managing Director Stevie Kim plans to continue the Mr. and Miss Vinitaly International competition in future years. "These are two enthusiastic kids who can give a young face to Italian wine. They will be representatives of what Italy stands for around the world – beauty, opera, art, food and wine," says Stevie Kim. "The goal is to engage young people in the future of Italian wine, by giving them an image they can connect with."
The second initiative also seeks to create connections, among the online community of Vinitaly who this month reached a landmark of 100,000 Facebook followers. From March 24 to April 4, Twitter users can vote for their favorite Opera Wine of 2014 - listed on the Opera Wine website - using the hashtag #bestoperawine. The campaign will be advertised on the websites and Facebook pages of Opera Wine, Vinitaly, and Vinitaly International and on the airwaves at Decanter Radio2 station. The winning wine with the most votes will be revealed at the end of the Opera Wine press conference, scheduled for April 5th at 1:00pm at the Palazzo della Gran Guardia.
The announcement of Opera Wine's Twitter contest and the new "Mr. and Miss Vinitaly International" titles comes just two weeks after the successful launch of H-ack Wine, the first ever hack-a-thon designed to harness the technological savvy of young people to find technological solutions for the wine industry. Like Vinitaly International's latest initiatives, H-ack Wine focused on addressing the need to rejuvenate the image of Italian wine, in the face of a decrease in domestic consumption. "This is part of our broader strategy to engage young people – who will of course represent the future of Italian wine both here and abroad – by positioning wine drinking as young, modern and fashionable," says Stevie Kim.
About:
Wine Spectator is the world's leading authority on wine that reaches more than 3 million readers worldwide, exploring wine's role in contemporary culture and delivering expert reviews of more than 15,000 wines each year. Wine Spectator is solely responsible for the choice of producers at the event.
Veronafiere is the leading organizer of trade shows in Italy including Vinitaly (http://www.vinitaly.com), the largest wine event in the world. The 47th edition of Vinitaly counted some 148,000 visitors (+6%), of which 53.000 were international attendees (+10%) visiting from 120 countries. On 95.000 square meters, 4.200 exhibitors welcomed trade professionals, media and producers alike. The next installment of the fair will take place on 6th- 9th April 2014. The premier event to Vinitaly, OperaWine (http://www.vinitalyinternational.com) "Finest Italian Wines: 100 Great Producers", will unite international wine professionals on April 5th 2014 in the heart of Verona. Veronafiere also created Vinitaly International in 1998 to develop a global platform for the promotion of companies in the Italian wine and food sectors.
# # #