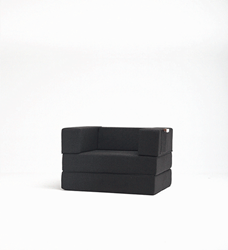 After working in the furniture business for many years, I just learned how important beautifully designed functional furniture was to city dwellers.
New York, NY (PRWEB) March 25, 2014
NYFU – New York Functional Furniture – launched in January 2014 with a forthcoming modern space saving furniture line and was created with functionality and urban lifestyle in mind. NYFU aims to bring not only functional furniture, but also a time saving shopping experience by introducing perks to help urbanites shop online including high quality with inexpensive prices, easy-assembly, sample offerings.
Being the designer, manufacturer, and retailer of its furniture line, NYFU manages to reduce costs typically faced in traditional furniture retail, and therefore meets the obvious need in the market for affordable functionality. Their unique proposition of controlling costs includes their complete control of the fulfillment and selling process. As a result, they pass all of those savings to their customers.
Examples of their furniture line includes one that literally transforms: ottoman that turns into a bed. When Efe Kababulut, the Chief Product Officer was designing and thinking about how to create functional furniture, he simply considered what was most important to urbanites and built these concepts with them fully in mind.
NYFU's modern line is ideal for not only small size apartment-dwellers, but also all smart design fans across the country. Their products include ottomans, sofa beds, beds, desks, tables and TV units, The company has already been featured on Apartment Therapy, BuzzFeed, Time Out New York, Thrillist, and Design Milk.
NYFU has launched with offering free shipping & return on the East Cost, in NY and NJ, and has started to ship nationwide after a couple of weeks of going live. The company is currently in the process of fundraising.
The NYFU team brings a breadth of experience and passion to the New York startup. Basak Ilhan Cekceoglu is the current CEO of NYFU and former CEO of Turkey's leading Home & Decoration Vertical website AltinciCadde.com. She is an entrepreneur with 10 years experience in the internet business, focusing mainly on large scale start-up projects. The Co-Founder and Head Designer of NYFU, Efe Kababulut, is an industrial designer and the 4th generation owner of Lazzoni, a 60+ year old furniture manufacturer & retailer located in New York, NY. Pinar Guvenc, the CFO brings strong quantitative background to NYFU. She has a BS in Industrial Engineering from Bilkent University and a MS in Economics & Finance from SIU. Finally, Alper Guler, the CIO of the company is the software engineer and joined the team to manage information technology and customer relationship.
For press inquiries, please contact Pinar at Pinar(at)nyfu(dot)com.