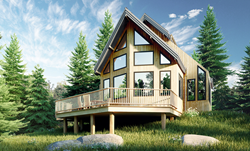 "The prices are being increased due to wealthy locals moving home and international buyers wanting a safe place to invest their money."Toronto broker, Barry Cohen, of RE/MAX Realtron Realty Inc
(PRWEB UK) 24 March 2014
Nova Scotia, Atlantic Canada: Canada´s residential real estate market has remained strong for many years and 2014 looks to be no different. Government policy and an economy that successfully weathered the 2008 downturn have resulted in a positive outlook, according to a recent report from Fitch Ratings.
House prices are expected to remain consistent throughout 2014. Canada has a robust economy and mortgage performance has been very strong over the last decade, with little evidence of defaults.
"Canada´s luxury housing market has undergone serious transformations in recent years. The market is maturing and the appetite is unprecedented," says Gurinder Sandhu, Vice President at Re/Max.
Canada welcomes 16 million tourists a year; many of these visitors decide to make Canada a permanent base by purchasing a second home in one of the beautiful regions.
Toronto broker, Barry Cohen, of RE/MAX Realtron Realty Inc, adds, "The prices are being increased due to wealthy locals moving home and international buyers wanting a safe place to invest their money."
Surging stock markets, renewed consumer confidence and shortage of quality homes help lift prices in the major cities, making Canada an attractive investment opportunity.
Nova Scotia, Atlantic Canada has seen more stable prices than many of the country's biggest cities and prices are expected to remain steady. The $25 billion national ship building contract recently awarded to Halifax is expected to further boost the economy by creating new jobs and business opportunities within the region, making Nova Scotia an ideal place for a real estate investment opportunity.
Landcorp International has been introducing a unique premium residential development 30 minutes from Halifax, the capital city of Nova Scotia, to investors from more than 40 countries worldwide since 2007.
Forest Lakes Country Club will be a residential resort like no other in Atlantic Canada, situated just 30 minutes from Halifax international airport. The 1,700+ acre site is set in a rural area adjoining 80,000 acres of spectacular natural surroundings, which provide a constantly changing backdrop to this four-season resort.
"We have seen consistent growth in Canada and Nova Scotia, which is why we are proud to present an excellent off-plan plot investment opportunity at Forest Lakes Country Club, the premium, four-season resort just 35 minutes from Halifax International Airport," says Landcorp International Managing Director, Ailse MacFarlane.
"This opportunity offers our clients the chance to invest in a plot at Forest Lakes Country Club from £30,000 and enjoy 30-48% return on investment in 24-36 months or keep the plot and build to enjoy further capital growth. So clients can choose from the best of both worlds!" she concludes.
Click here to download the brochure
For more information about Landcorp International, visit our website