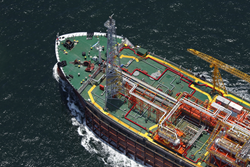 Gloucester, UK (PRWEB UK) 25 March 2014
This new modular, multi-functional tile system from Advanced Insulation provides integrated thermal insulation and passive fire protection to J60 or H120 IMO classifications, and thermal insulation for decks exposed to cryogenic spill.
ContraFlame CSP phenolic or polyester fiberglass-reinforced tiles are filled with Advanced Insulation's ContraFlame C50 thermal insulation material. The micro-cellular structure of C50's syntactic foam is derived from lightweight additives rather than through blowing agents, which creates a closed-cell structure that is unaffected by water even when fully immersed.
Ideal for internal and vertical panelling use on floating liquefied natural gas (FLNG) projects, ContraFlame CSP has been tested for cryogenic spills of liquefied natural gas (LNG) at -164°C for 2h50m which, during tests, limited the back face temperature of the steel to -28°C.
Each robust 0.5m x 1.0m ContraFlame CSP tile is 34mm thick and weighs 16kgs; is impervious to water and can withstand chemical or acid spills. They are designed for continuous use at operating temperatures from -40°C to +150°C and are tested to withstand thermal shock to -196°C in LIN spillage conditions. ContraFlame CSP also prevents corrosion under insulation (CUI) and provides outstanding physical performance for creep and fatigue in the marine environment.
ContraFlame CSP systems are made-to-order to meet the bespoke design requirements of each project. Being a dry-fit system with removable sections, the tiles are quick and easy to apply – requiring only adhesive bonding to fix the tiles to a primed deck. This, with suitable training and under the supervision of Advanced Insulation's technicians, means the modular system can be easily installed using local labour.
For further information on ContraFlame® CSP & PFP, call Advanced Insulation on +44 (0)1452 880880, email sales (at) aisplc (dot) com or visit http://www.aisplc.com.
ContraFlame® and ContraTherm® are registered trademarks of Advanced Insulation plc.