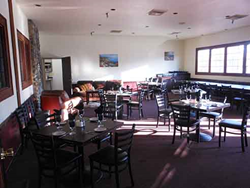 The chairs and matching bar stools gave the restaurant that cohesive look the owner was going for.
Gardnerville, NV (PRWEB) March 20, 2014
Leading commercial furniture distributor, Restaurant Furniture.net recently teamed up with Lentine's Italian Restaurant in Gardnerville, Nevada with the grand opening of their new restaurant with new commercial chairs and bar stools.
Lentine's Italian Restaurant is owned and operated by Chef Mark Lentine and his wife Cathy. Mark is a former Executive Chef who worked in Las Vegas and Seattle for many years. He also owned and operated Italian Restaurants for many years started his adventure 1978.
Lentine's is located about 65 Miles from Reno, and about 20 miles from the Carson City area. Lentine's is the perfect location for people to get together and enjoy an unforgettable Italian dining experience. Lentine's menu features traditional Italian favorites such as Scampi, Chicken Piccata and Linguine with Clams. They also serve unique signature Italian pizzas such as Grape Pizza, Clam Pizza and Shrimp and Artichoke Pizza. They also offer an extensive wine selection.
Lentine's Italian Restaurant provides customers with and intimate, yet casual dining experience. They have a large patio and they also offer catering and has a large banquet room for special occasions or large events.
The owner of Letine's Italian Restaurant needed high quality commercial seating that would look great and be able to withstand the high traffic that the bar experiences on a daily basis. "The owner needed sturdy, durable chairs that look great, but he didn't want to spend a lot of money", explained David M. He turned to Restaurant Furniture.net because of their reputation for premium quality and strong built furniture at affordable prices. Restaurant Furniture.net supplied Lentine's with high quality commercial chairs, bar stools and tables at competitive prices that fit well within his budget.
When shopping for seating for his new location, the owner decided to go with sleek Metal Ladder Back Chairs and matching bar stools with black frames and padded black vinyl seats. Customers have the option of a solid wood seat or an American made padded seat made of vinyl or fabric. Wood seats are available in 6 different finishes. The frame is available in black, copper vein, silver vein, gold vein or gold. The bar stools are currently on sale for $51. Metal Ladder Back chairs are on sale for $34.50.
"The Metal Ladder Back Chairs are the most popular restaurant chairs in America," remarked David. "The chairs and matching bar stools gave the restaurant that cohesive look the owner was going for."
Browse Restaurant Furniture.net's full selection of commercial grade chairs, bar stools, table tops, table bases, booths and patio furniture at http://www.restaurantfurniture.net or talk to a customer service representative at (888) 409-1115.
Lentine's Italian Restaurant is located at 1488 Hwy 395 in Gardnerville NV. They can be contacted at: (775) 782-3777.